Finding new winning products can be tricky.
Most people turn on their ads, hoping and praying for sales to come in.
Without verified data and spy tools to predictably find hot-selling products, it can be darn near impossible to find profitable products and run a successful dropshipping business.
Fortunately, Trending Products software scours the internet for all eCommerce stores and finds trending data on what's currently selling in the market.
Product List
We've listed nine trending products using our tool to help you on your dropshipping journey. Let's begin! 
Stainless Steel Pants Hanger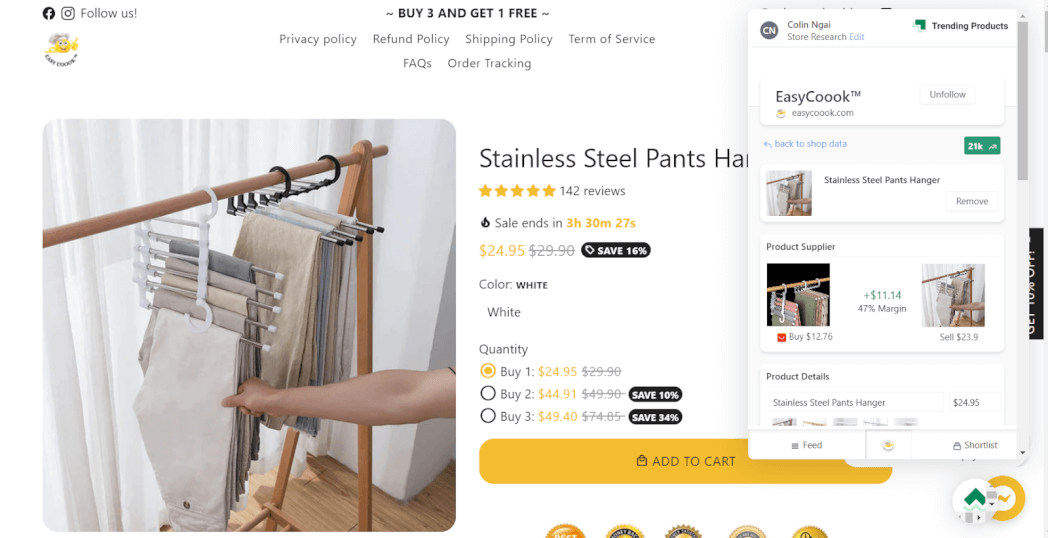 Source: Easy Coook
Stainless steel pants hangers help to organize your closet space and prevent your pants from creasing or wrinkling. With this product, you can store up to five pairs of pants in one hanger, triple the amount of clothing you can store.
It's an excellent way to declutter your closet and save more space.
Why we like this product:
Using the Trending tab section in our software, we've found a product with a 145k strength. This means the product has greater selling potential by using the various engagement and sales data found on this given product. The higher the product strength, the better selling potential it has.

We like this product because it solves a real problem and is unique.
Looking at the supplier cost of $12.76, you can easily sell this product for just under $25.
How to advertise this product:
We recommend using the video on the Aliexpress supplier page and adding some cool text and music to spruce up the ad creative.
Then, we recommend targeting interests on Facebook, such as
Do it yourself (DIY)
Furniture
Home Improvement
Shopping
Bluetooth Sleeping Mask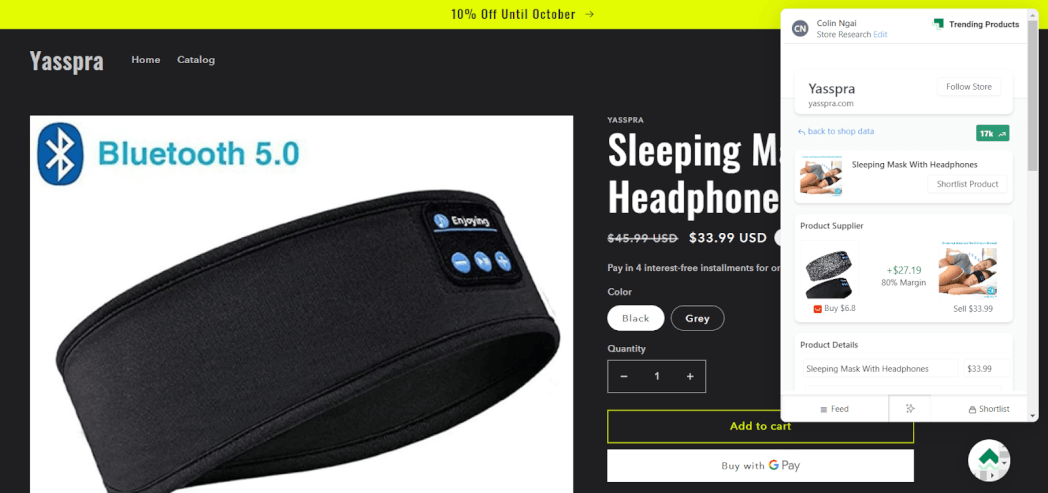 Source: Yasspra
The Bluetooth sleeping mask offers noise-canceling earphones to eliminate distractions, which helps people get a good night of sleep.
It works by connecting the device to your smartphone device. The eye mask is made from soft velvet and breathable polyester for comfort.
Why we like this product:
Roughly 50 to 70 million Americans have some form of sleep disorder. People of all ages and socioeconomic statuses have varying severity of sleep problems.
Spending $20 to $35 on a sleeping product that may completely improve their ability to fall and stay asleep is an easy impulse buy for consumers.
Since it only costs $6.8 to buy from Aliexpress, it has a high-perceived value due to the added Bluetooth functionality. This allows you to sell the product for above $30 easily.
How to advertise this product:
Sleepathy does an excellent job putting together a well-shot video of the sleep mask product. We recommend finding supplier videos or shooting a short clip using the mask and adding text.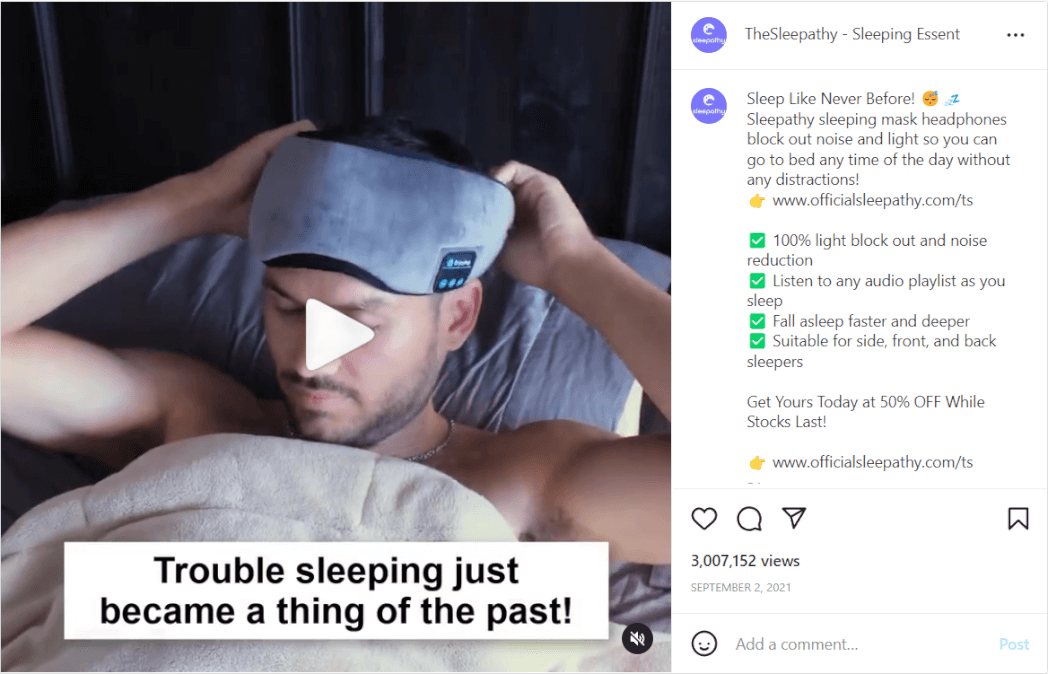 Source: Sleepathy
The beauty of the sleeping mask is that there are so many niches you can target. That makes the product more difficult to reach saturation since you can branch off to different groups of people.
Here are some interest-targeting ideas you can use for Facebook and Instagram:
Parents with toddlers or preschoolers
Employers working in industries such as Legal Services, Veterans, Military, Business and Finance, Healthcare and Medical Services, etc.
Motherhood, family, fatherhood, and parenting
Fitness and Wellness
Travel
We recommend bundling the sleep mask with other sleeping accessories, such as a cooling pillow or mattress pad, to help people fall asleep.
This store bundles the Bluetooth mask with an orthopedic latex magnetic pillow and a bedside storage sleeve.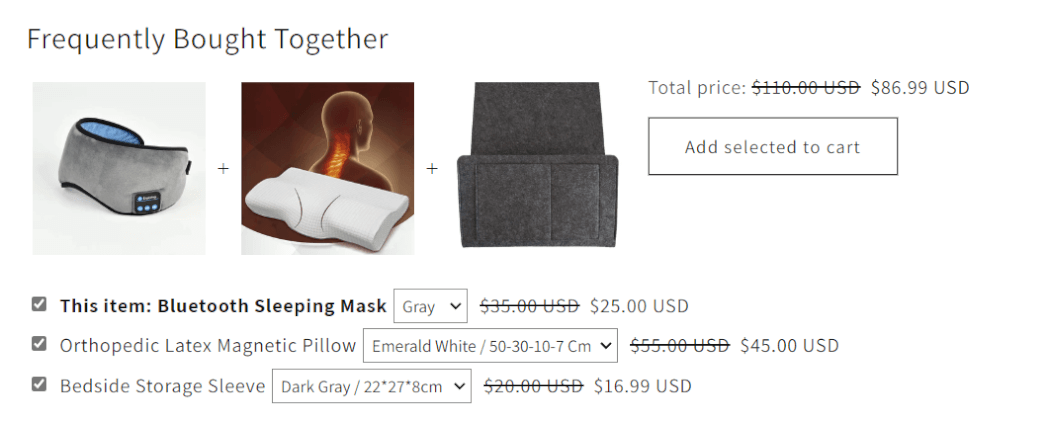 Source: Shop Red Rover
LED Motion Sensor Light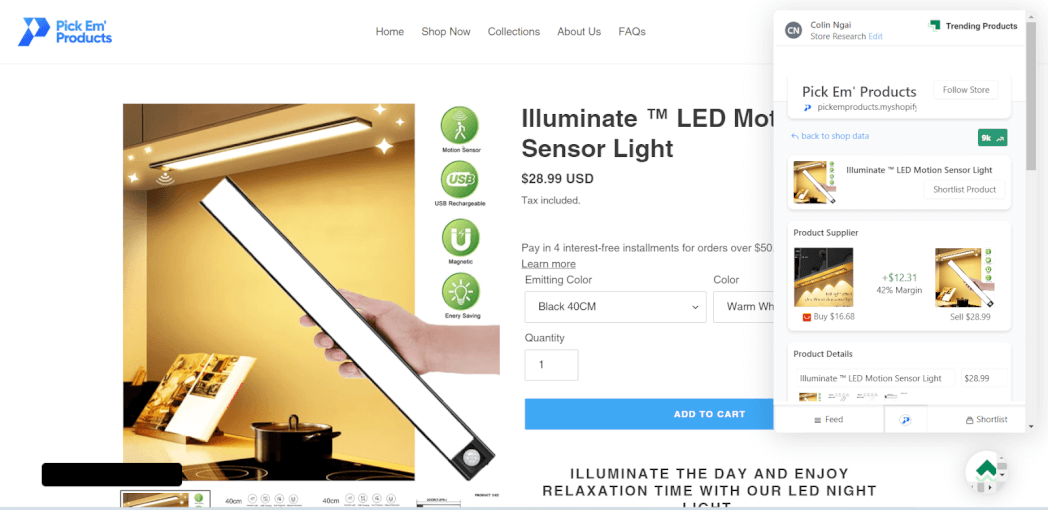 Source: Pick Em' Products
LED lights have been a favorite among dropshippers. People love decorating their spaces, whether it's LED light strips or toilet LED lights.
The LED Magnetic Sensor Night Light has a built-in magnet to stick onto any surface area without using screws or bolts.
Its motion detection feature automatically turns on and off when it senses movement.
Furthermore, it can last over five hours under the Always On Mode before it needs to recharge.
Why We Like This Product:
While consumers can buy lights from any store, finding a motion sensor magnetic light is unique.
You can place it anywhere, like your kitchen, closet, bathroom, or wherever you see fit.
It solves a major problem. Many areas in our homes don't have outlets, and using an extension cord would be a hassle.
These magnetic lights save energy and add a cool touch to your home.
It sells for $12.79 on Aliexpress and has a relatively high perceived value, allowing you to sell it for $30 or more.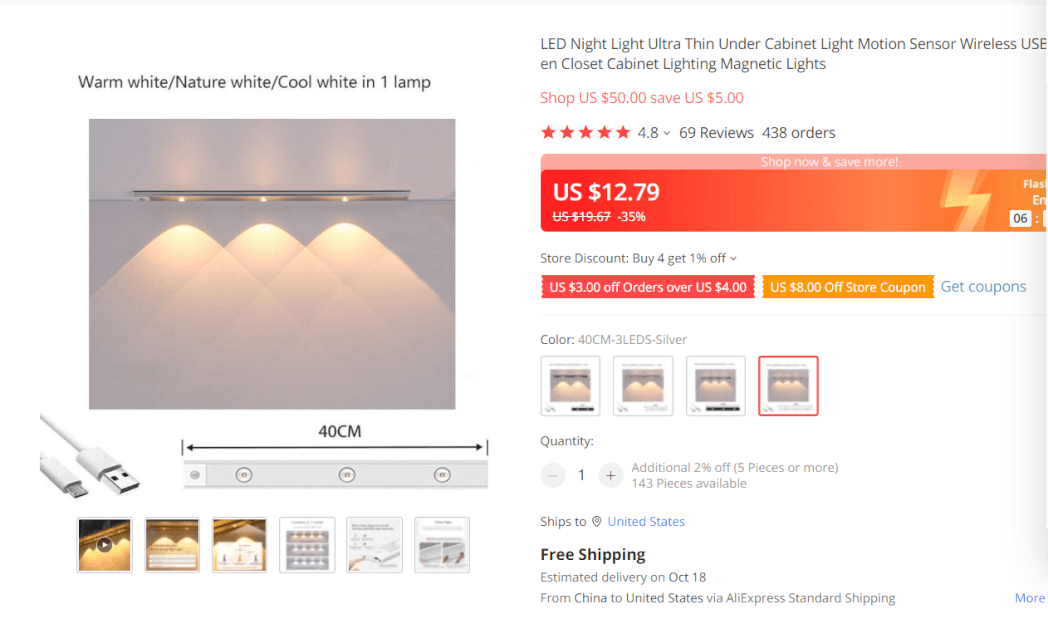 Source: Aliexpress
How to Advertise This Product:
With a simple Google Search, we've found an Amazon seller selling the same product with a video ad on their product listing.
It demonstrates how to use light and its features.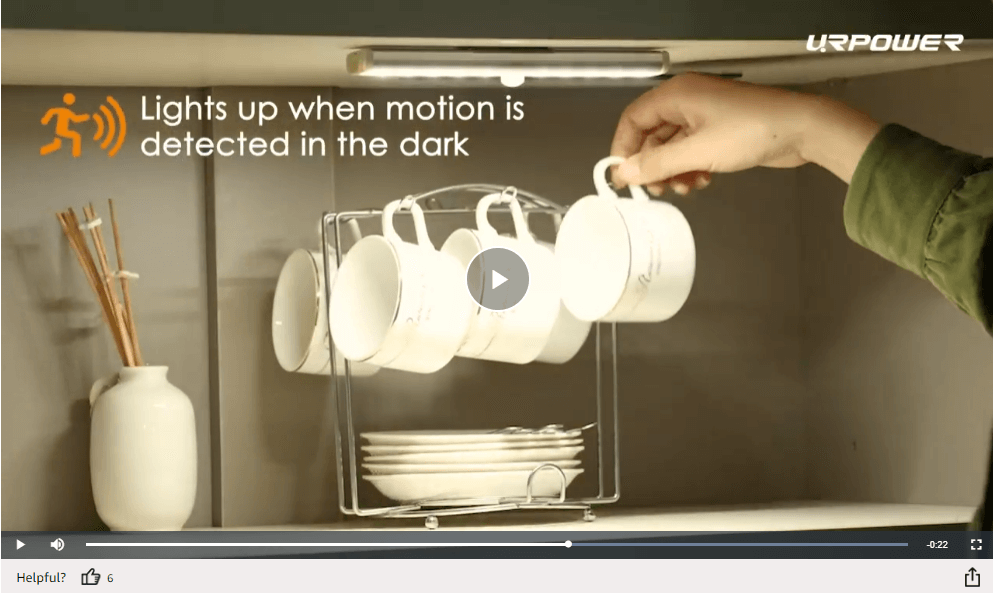 We recommend targeting Facebook interests, such as
Interior design
Reading
Home Improvement
Do it yourself (DIY)
Handheld Vacuum for Pet Hair
Source: Fuzzinator
Pet grooming products such as pet deshedding tools and brushes have been popular to sell among dropshippers.
The handheld vacuum tool takes it to another level. This device has strong suction power for a mess-free grooming experience. Unlike many brushes that feature painful wire bristles, these handheld vacuums effortlessly desheds knots, dander, dirt, and loose fur.
For pets, it's comfortable so that they won't resist the handheld vacuum.
Why we like this product:
There are many reasons we love this product. It solves a huge problem, especially for pet owners who hate having their furniture, clothes, and carpets covered in their furry pet's dander.
Secondly, the cost for the product is only $9.24, with a high perceived value. It's reasonable to sell this problem between $25 and $40.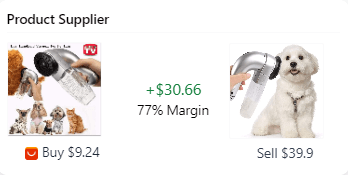 Lastly, it's very under the radar, and not many dropshipper has yet discovered this product.
How to advertise this product:
By searching on Facebook and YouTube, we could find video ads of this product, called the "Shed Pal," first advertised by As Seen on TV.

Source: Lazada Junkie
You can take segments of these clips, create them on your video ad or ask the supplier for a video ad.
We recommend targeting interests on Facebook, such as
Pets
Dogs
Cats
Home and Garden
Home Improvement
Pet Bath Brush 
Source: Pet Doze
Since the pandemic, more people have adopted pets. Thus, there's a bigger market for pet owners than before. Furthermore, pet spending has also increased, according to a new Forbes Advisor survey.
Source: Forbes Advisor
Pet owners love their furry four-legged friends and will do anything to make them happy. Dogs get dirty and need baths every four weeks. However, bath time can be a struggle for pet owners.
The soft silicone material won't scratch or harm your pet. Simply dispense your pet-friendly doggy shampoo into the brush and place it inside the brush.
Then you'll scrub your pet as you give them a bath.
Why we like this product:
A pet bath brush only costs about $3, allowing you to receive excellent margins.
We recommend selling it for about $15 or more.
Source: Aliexpress
How to advertise this product:
There are tons of clips online from Facebook, Amazon, or Aliexpress listings.
We found a well-cut-up clip that demonstrates the product on a pet and explains the benefits.
Source: Happypets Brush
We recommend targeting interests like
You can even target pet owners who like specific big-name dog brands such as Hills Pet, Chewy, or Rover.
Anti-Skid Steering Wheel Cover 
Source: Enjoy Wonder
Car enthusiasts love to deck out their cars. Whether it's adding new rims, replacing their engine, or adding new interior elements to their vehicle.
The anti-skid steering wheel cover is an aesthetic and functional upgrade to any car. Carbon fiber or leather is a non-slip material to give you a better grip to prevent slipping while driving. Any slippage can cause an unwanted accident.
Why we love this product:
With an 11k product strength, it's currently on the rise and seems to be getting great traction from consumers.
The supplier cost is $9.30 and is currently sold by competitors for around $23.98, which is a 61% margin.
We love that it solves a problem and is quite eye-catching, which will garner impulse buys.
How to advertise this product:
The supplier offers a cool video that could be used for your ad creative. Ask the supplier to remove the Chinese texts, and you'll have a ready-made ad waiting to test.
Source: Aliexpress
There are several avenues you can decide to take with the wheel cover. You can target general car owners, car enthusiasts, or taxi drivers.
Some Facebook interests to consider are
Travel
Vehicles
Automobiles
Electric vehicles
Hybrids
SUVs
RVs
Trucks
Transportation and Moving
Security Dome Cameras 
Source: Security Camera and Stuff
Security cameras are necessary equipment for every homeowner. People without security cameras are one incident away from losing valuable items in their homes.
The footage from these security cameras can be used as evidence for insurance and prosecution.
What's cool about the security dome camera is that it has a 4.0X digital zoom with a 90 to 100-degree viewing angle.
It wirelessly connects to your smartphone so you can monitor the inside or outside of your home through your device.
Let's say you have a delivery person waiting at your door. It's good to always check the camera before proceeding to let a stranger in your house.
It even offers motion detection capability, allowing you to sense any intruder who comes nearby or into your home.
What we love about this product:
Security is a major issue, especially with certain areas receiving higher crime rates. This product has a high perceived value, so you can charge upwards of $40 or more. Also, the supplier cost is only $16.82 meaning there are healthy margins for you to work with.
Source: Aliexpress
The supplier indicated 7,875 orders meaning it's a verified, highly sold product and has a 27k strength on our Product Trends data.
How to advertise this product:
We found a video ad you can use directly on the Aliexpress site. Of course, you can film one yourself to add more creative input.
We recommend targeting a few of these behaviors:
Household income: top 5% of zip codes, top 10% of zip codes, and top 10% to 25% of zip codes
Newly engaged
Recently moved
New parents
Parents with toddlers and parents with preschoolers
Home Improvement
High-income earners who recently moved or are new parents are more likely to be motivated to protect their homes and family.
Custom Name Necklace 
Source: Oak and Luna
No matter what time of year it is, birthdays, anniversaries, or holidays are always coming up. Gift-giving is important in maintaining relationships and showing the ones you love how much you care.
The custom name necklace lets you write a name of up to 10 characters. Personalizing your gift is much more special than a generic gift or something you're unsure whether the other person will like.
It's made from high-quality gold vermeil and has an adjustable chain length.
Why we like this product:
Buying a personalized present can always be an impulsive buy for gift buyers. With the supplier cost being $8.19, you can easily charge upwards of $30, $40, or even $50. Heck, Oak and Luna seem to be charging $135!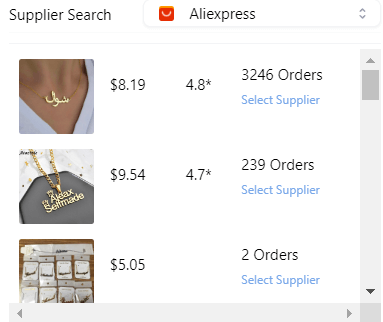 It's difficult to place a price tag on a special gift, which is why we love this product. And it's already got 3,246 orders on Aliexpress, ensuring this necklace sells well.
How to advertise this product:
The easiest way to sell the product is to use high-quality images directly from the supplier.
If you want to get creative, we advise paying an influencer to film an ad for you. For example, having a video with a guy giving a present to his girlfriend can appeal to couples.
We recommend targeting demographics like
Married
Engaged
In a relationship
Newly engaged
Newlywed
Recently moved
Family and relationships
Shopping
Portable Blender 
Source: MK Essentials
Blenders have always been a great product for health and fitness enthusiasts. However, portable blenders are unique.
With this portable blender, you can make your healthy smoothly on the go. It's rechargeable with a USB, so you can easily charge it during the day with your laptop or another USB device.
The blender comes with two, four, or six blades, letting you easily cut up and blend any fruit. Furthermore, it only takes ten seconds for you to enjoy your smoothie.
Why we like this product:
Currently, the portable blender is on our list of rising trends and has a product strength of 16k.
It's a great passion product for health and fitness enthusiasts who want to stay healthy. Since it only costs $12.96, you can easily sell it for upwards of $30 or more.
Source: Aliexpress
How to advertise this product:
You can find dozens of clips of portable blenders to give you ideas on advertising this product.
Source: Raayan Collection
We recommend targeting these various interests:
Fitness and wellness
Bodybuilding
Physical exercise
Running
Meditation
Weight training
Yoga
Juice
Tea
Veganism
Vegetarianism
Characteristing a Trend
Most dropship store owners don't know how to sort out between the good and the bad products to sell online. Most people simply look at best sellers, copy what others are selling, or even worst, listen to their friends.
While those strategies can work, it's likely to fail. A battery strategy is to find characteristics of products based on the criteria we've listed below. That way, you know products that have the potential to sell online, and you can spot opportunities in the marketplace that others won't see.
Attention-Catching and Unique
Unlike selling on Amazon or eBay, people won't find your store or products through organic search. Dropshippers typically need to advertise through interruption marketing.
Catching buyers' attention as they scroll through their social media feeds is the key to capturing eyeballs for the advertisement.
As a result, the ad creative and product must be eye-catching and unique. Dropshipping products shouldn't be easily found in your local retail stores. They should be one-of-a-kind, making the product more desirable. If the product can be found at a box retailer, there's a good chance they'll choose a more trustworthy company to buy it from.
Passion and Problems
Have you heard of the saying, "the riches are in the niches?" Passionate niche products serve a singular group of people with a shared interest.
People who are extremely passionate about a hobby will do anything to continue to grow their passion and uphold their affinity towards it. For example, people who love fishing want to buy all the gear needed to help them catch trophy fish.
In addition, products that solve a specific problem can feed into the impulse of buyers. A person with back pain wants to do everything they can to alleviate the issue. That's why the back brace protectors have performed so well and continually perform well.
Offers Healthy Margins
While getting sales is a crucial aspect of dropshipping, many dropshippers choose products with low-profit margins.
The key is to find products with a high-perceived value or a product that many would have trouble guessing the price of.
Once you've found high-perceived products, you'll want to try to price your products two to three times the supplier-listed price.
Here's an example of a pricing strategy you can follow:
| | |
| --- | --- |
| Cost of Item from Supplier | The Price to Sell it At |
| $.01 to $2 | $9.95 |
| $2.01 – $4.99 | $14.95 |
| $5 to $30 | At least two to three times the costs |
| $30 or greater | 1.5 to 3 times the costs |
You can account for advertising expenses, operating expenses, and payment provider fees by selling your product for at least twice the supplier cost.
Let's say a product costs $15, and you sell for $30.
$30 sale minus $15 in product cost
$15 minus $3 in payment transaction fee
$12 left to spend on advertising to break even on the product.
Once you know the break-even costs, you can slowly increase the price until the sales taper off.
Weight and Size
The rule of thumb for finding worthwhile dropshipping products is that they should fit inside a shoe box. Any larger will raise the shipping cost, making selling the items less practical.
If you intend on using ePacket, a delivery service that enables you to ship quickly from China to the United States and over 30 countries, you'll need to be mindful of the weight and size. For ePacket, there are the minimum and maximum size requirements. The weight limit is also 4.4 lbs or 2kg.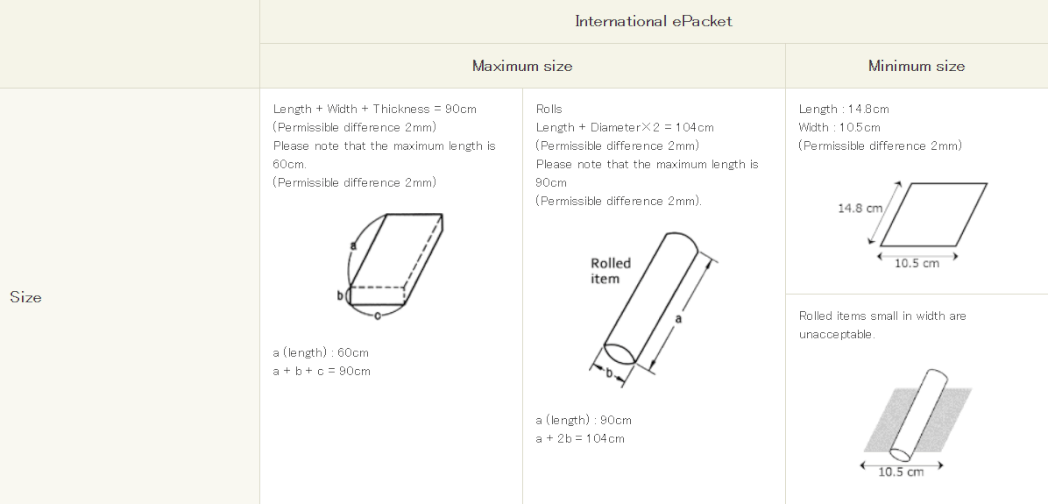 Source: Japan Post
When deciding on products to dropship, look for lightweight and small items to ensure you won't run into shipping problems.
Low Turnover
You want your dropship product to remain in production for long periods. Your investment in quality sales copy, photos, and ad creative will reap long-term benefits. While seasonal items are great, building your store around them isn't a good idea. Products with high turnovers, meaning they are changed or discontinued, aren't great choices since you'll have to update your product listings continually.
Retail Price
Retail price is the amount you can sell a product for. We advise selecting products that sell between $15 and $200. While it may sound like a wide gap, this is typically the sweet spot for eCommerce products to dropship.
Here are several reasons why the best dropshipping products retail between $15 and $200:
Having affordable products usually translates to selling higher volumes.
Selling high volumes provides more opportunities to receive customer feedback, which builds trust and credibility.
Selling products for under $15 makes it difficult to make profits and requires you to acquire many customers.
Products that retail for over $200 aren't affordable and won't be considered impulse buys, meaning customers need more information to decide.
Selling products for over $200 can mean that refunds can set your business back.
Few Moving Parts
Good dropshipping products shouldn't be fragile or fiddly since they could easily break during transit. This will only lead to returns and negative feedback, leading to a poor reputation for your store. Of course, a poor reputation can cause ad accounts to shut down, payment providers to withhold money, or eCommerce platforms to withdraw their business from you.
Electronics can fall into this category, especially if you're sourcing from suppliers you're not familiar with.
It's best to stick with reliable products that can withstand the rigors of international travel.
Quality Supplier
Choosing the right dropshipping product is only half the battle. You'll also need to ensure you only pick quality suppliers. This is incredibly important for dropshipping since you rely on the supplier to manufacture the product, have enough stock, and ship it to your customers on time.
Potential Repeat Business
Many dropshippers fail to realize that some of the best products can generate repeat business. While it's not always necessary, it's very helpful, especially since many products come and go.
Recently, subscription services have become increasingly popular, and businesses can offer subscriptions to customers. For example, men's shavers, curated socks, and many other products can warrant customers to pay monthly. This helps to guarantee sellers a more predictable income.
If you're able to convert a customer once, you may secure repeat business by offering a product that is renewable, disposable, or offered as a subscription service.
Common Mistakes
You will inevitably make mistakes in your dropshipping business.
However, you can learn from the mistakes of other dropshipping. Here are several common mistakes people make when selecting their product to dropship.
Mistake #1
Choosing a Branded or Designer Product
Many assume that selling big-name brands can make boatloads of money online since they're in demand, well-known, and expensive. However, the truth is that designer products have low-profit margins and are expensive to source, making them a poor choice for product selection. 
Unless you have the buying power for a retail store, it's best to avoid big-name brands. Instead, stick with generic products or consider transitioning to private labeling once you've found successful winners.
Mistake #2
Choosing a Competitive Product
Many beginners dropshipping believe they've found a great product to sell if it's on the all-time top-selling and hot products list. Or if they see it all over social media, it must be a good product to sell, right? 
Nope! You shouldn't sell products that are hyper-competitive. If you have 20 other sellers advertising the same product, you'll have to compete for market share. Also, you'll need to drop your prices, which you want to avoid.
Mistake #3
Selecting Knockoff Products
It's tempting to sell imitation or knockoff products since it's cheaper than the real thing. However, you should stay clear from selling counterfeit products. Doing so leads to serious legal trouble and jeopardizes your business. 
If your suppliers offer you branded products at prices that sound too good to be true, there's a good chance they're knockoff versions.
Wrapping It Up
Product research can make or break your business.
You're constantly competing against other dropshippers; any advantage you have to succeed should be taken.
That's why we've done the hard work by giving you the trending products that are working right now.
If you're interested in getting the most up-to-date products daily and weekly, download our Trending Products Toolbar.
You can spy on competitor stores, find their hot products, and leverage the power of data to find consistent winners.
Written by Colin Ngai