Throughout the year 2020, COVID has rampaged through most businesses and industries. According to S&P Global Market Intelligence, the five industries most impacted by the global pandemic are Airlines, Leisure Facilities, Oil and Gas Drilling, Auto Parts and Equipment, and Restaurants.
As for e-commerce, the industry has boomed due to the closure and limited capacity of retail stores. Retail stores suffered from restrictions limiting the number of customers that could physically come to their store. From 2019 to the end of 2020, the online retail market grew by an astonishing 40.3%. e-Commerce hasn't had this big of an increase in at least two decades. Because of the global pandemic, it's advanced the market sales by two years. Based on Digital Commerce 360's calculations, COVID has caused an increase of about $153 billion in sales to online retail in just the U.S. markets alone.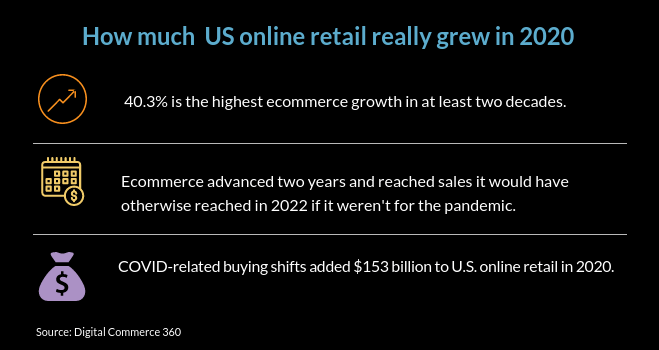 Clearly, COVID has had a positive impact on e-Commerce in increasing the demand for online retail. That doesn't come without any negatives, though. Dropshippers have been affected by supplier delays. Since roughly 35% of the total global manufacturing output is produced by China, it was shocking for them to close their manufacturing warehouses in Q1 of 2020.
However, they reopened in spring, and dropshippers were able to resume their operations. Some products such as medical equipment and home fitness products garnered so much demand forcing significant delays and canceled orders from e-Commerce businesses. Since then, e-Commerce has picked its pace up to new heights. For example, online retail saw a growth of about 21.6% during Black Friday compared to last year, reaching an all-time high of $9.03 billion.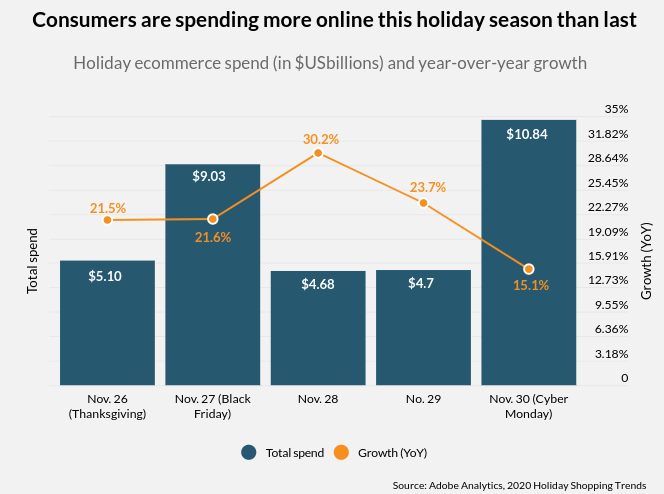 Here's a summary of how COVID has affected drop shipping in 2020:
A big shift in the demand leading to an increase in online shopping
Longer shipping times from suppliers or orders being completely canceled orders
Dropshippers begin to prioritize branding
With that being said, what can we expect in 2021? There's been lots of talk about the release of the approved vaccines, the change in the U.S. presidency, more stimulus checks on the way, and other world news. We'll forecast how these current events will affect the landscape of dropshipping.
Consumer Behavior
The Effect of the Vaccine on Consumer Behavior
In the United States, two vaccines have been approved by the CDC: Pfizer-BioNTech and Moderna. In addition, three new vaccines are Phase 3 clinical trials and expect to be approved shortly as well.
Dr. Fauci, a leading expert for the COVID pandemic, expects the general public to receive the vaccine in April and possibly in later months, such as the summer or fall. Furthermore, it takes about 85% of Americans to take the vaccine to achieve herd immunity. One USA poll found that about 46% of Americans plan to take the vaccine, while 32% of them will take a wait and see approach.
So what does that mean for consumer buying behavior? We predict that as more people take the vaccine, they will be more inclined or confident to do everyday activities. This means businesses will likely begin opening their offices for limited capacity. As a result, we expect consumer buying power to increase. More consumers will trust the vaccine if it proves to be effective. This opens the floodgates for all industries to begin booming. For example: if more people travel, e-commerce owners can capitalize on the influx of travelers by selling travel-related products.
An ISWR Covid-19 Consumer Tracker report found that about 75% of respondents across ten different core markets will feel more comfortable in resuming everyday activities once a working vaccine is available. It further states that younger people are less likely to feel affected by the vaccine, while older people will feel more affected by this change. This means you may be able to begin advertising to older individuals as well. But this also means it may be advantageous to market stay-at-home products to older people. For example, ergonomic lumbar supports, posture correctors, pillows, and entertainment products are great for older individuals (Gen Y, Z, and Baby Boomers) who spend their time at home.
However, don't expect the ripple effects from the vaccine to happen until the second half of 2021. Realistically, we advise e-Commerce owners to keep an eye open for Trends.
Current Conditions of Virus and How It Affects Entrepreneurs
The covid-19 vaccine could be the one solution to prevent widespread death and jumpstart the economy. Businesses are in a unique position to mandate their employees to take the vaccine before returning to the workforce. For business leaders, the rationale is this: if others in your work environment are vaccinated, it's much easier to convince everyone to be vaccinated. It'll help everyone feel safe while at work.
Businesses who are early adopters of this rule can gain a unique competitive advantage over other companies. For example, an airline could mandate that all passengers aboard have taken the vaccine before flying. The airlines instantly become the safest airlines to fly. If Uber enforced that all drivers were vaccinated, customers would feel safer to ride in their cars. However, since vaccines are still months away from the general public, this likely won't happen for at least six months.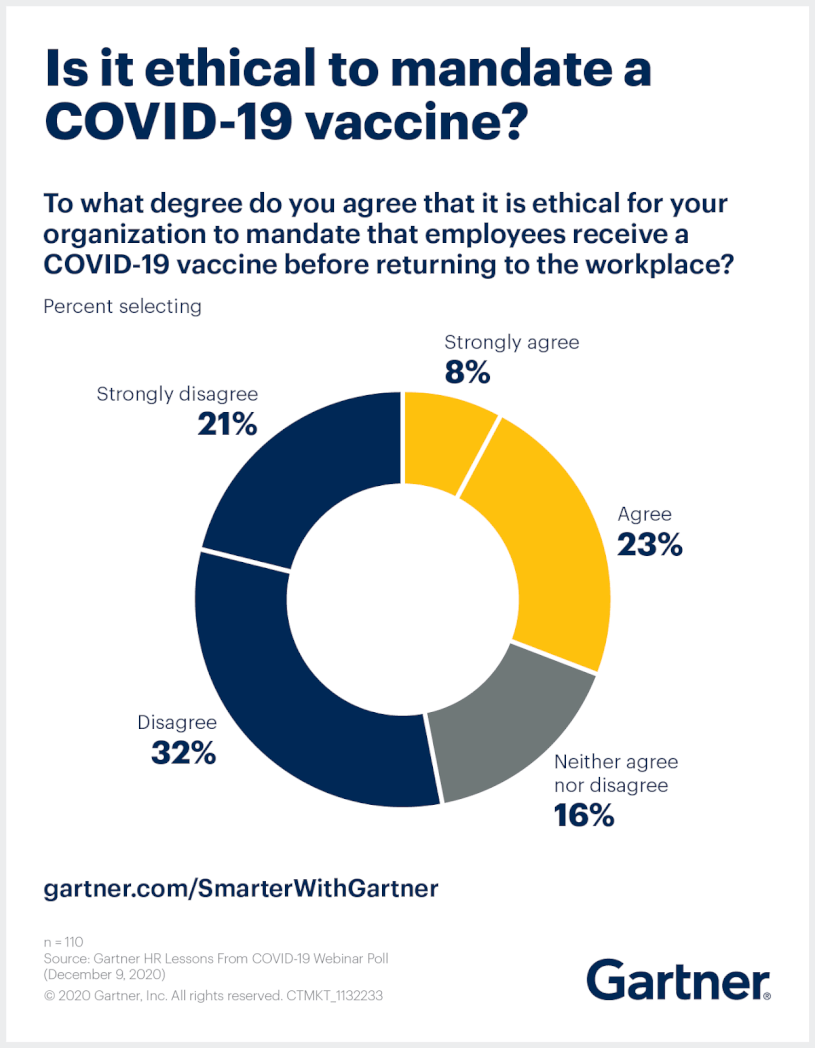 For solopreneurs, like most dropshippers, it may not have a huge effect on your business. But it may affect the partners you work with. For instance, Shopify will likely have more customer support team members available to handle your questions. Dropshippers who utilize domestic suppliers in the U.S., U.K., or Australia may see more available supplier options for any given product. This is because manufacturing warehouses will open up in full capacity allowing items to be available in stock. Personally, we've noticed a large number of e-commerce products that are out of stock, likely due to a shortage of warehouse workers over the past year.
Joe Biden Moving to Office Help China Relations
China plays an integral role in the success of dropshipping. International trade allows for the exchange of goods between different countries. This allows consumers to have goods that aren't available in their country or otherwise be much more expensive. In the case of dropshipping, most goods produced in China are much cheaper. Therefore, dropshippers can make a higher margin off each sale, making dropshipping a sustainable business model.
Under the Trump administration, they have caused tensions between the United States and China, among other countries. Trump had an "America First" policy that continuously undermined international trade law. The question is, will Joe Biden bring everything back to normal?
Since January of 2020, Trump has enforced a 16.8% tax on imported goods coming to the U.S. Many Chinese goods are on the list to be taxed before entering the borders. According to the Peterson Institute for International Economics, these tariffs on imports from China were about six times higher than the trade war that had started in 2018.
Chinese suppliers shoulder some of the costs of U.S. tariffs. Customers may further choose other suppliers outside of business, causing a loss of business for Chinese suppliers. As a result, suppliers will try to raise their prices to account for these expensive tariffs' costs. Overall, this has hurt the foreign relations between China and the United States.
Joe Biden has stated that he plans to pull back on the extremely high tariffs imposed by Trump. He'll also try to re-engage with multilateral international organizations such as the World Bank, the International Monetary Fund, and the World Trade Organization to help handle some of the ongoing trade disputes between countries. It's not clear yet on his exact strategy to change relations. However, Biden has stated, "The best China strategy, I think, is one which gets every one of us – or at least what used to be our allies – on the same page."
Although it won't be immediate, we can expect potentially lower prices from various products as a result of lower-priced tariffs imposed by Biden.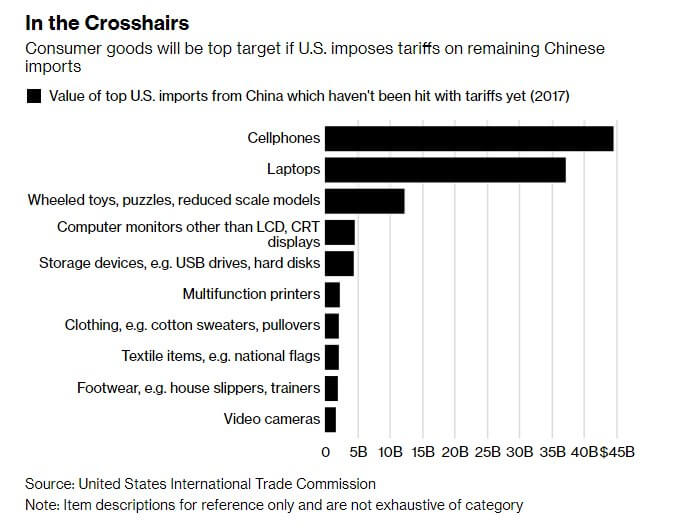 What Changed
You don't have to know everything going on with current events, but you should be aware of the potential changes that might occur that can change the landscape of dropshipping.
Find Reliable Suppliers
The introduction of covid-19 vaccines and the improvement of trade relations could mean that prices and suppliers' availability become more accessible in 2021. Make sure to always find high-quality suppliers. The best and most affordable suppliers from China are Aliexpress, Banggood, CJDropshipping, and China Brands. These sites specialize in dropshipping and therefore sell products at an affordable price to third party sellers like us.
Here are things you should look for when finding a supplier:
How do they handle orders? You should know how fast goods are shipped out when you receive the tracking number and how they pack the products.
Low costs for shipping to the U.S. or whichever country your customers are
Contact them with any questions about their product lines and assess how fast they respond.
Able to order samples from suppliers to check delivery times and product quality
Consider Branded e-Commerce
Once you've found multiple winning products that consistently rake in a nice profit, consider creating a brand around them. Branding enables dropshippers to gain more control over its product pricing, profit margins, and quality control. Dropshipping can be quite competitive and sometimes be a race to the bottom.
Branded dropshipping gives you instant credibility and differentiates you from your competitors. We believe creating a niche store or a one-product store will attract customers because your store specializes in one product type. With branding, you can ask your suppliers to add unique features to the product, add your logo, and even change the packaging. In essence, you go from selling products to a custom-made solution.
Here's a list of successful branded dropshipping stores for inspiration:
Inspire Uplift
GO
Gadgetox
Dog Pawty
Wikipedia
Meowingtons
Bluecrate
Moose Socks
When It's Too Late
Is Now a Good Time to Start Dropshipping? Online retail has been booming like never before and is expected to reach new heights in the coming years. Google Trends shows that the term dropshipping is continuing to grow steadily, heading into 2021.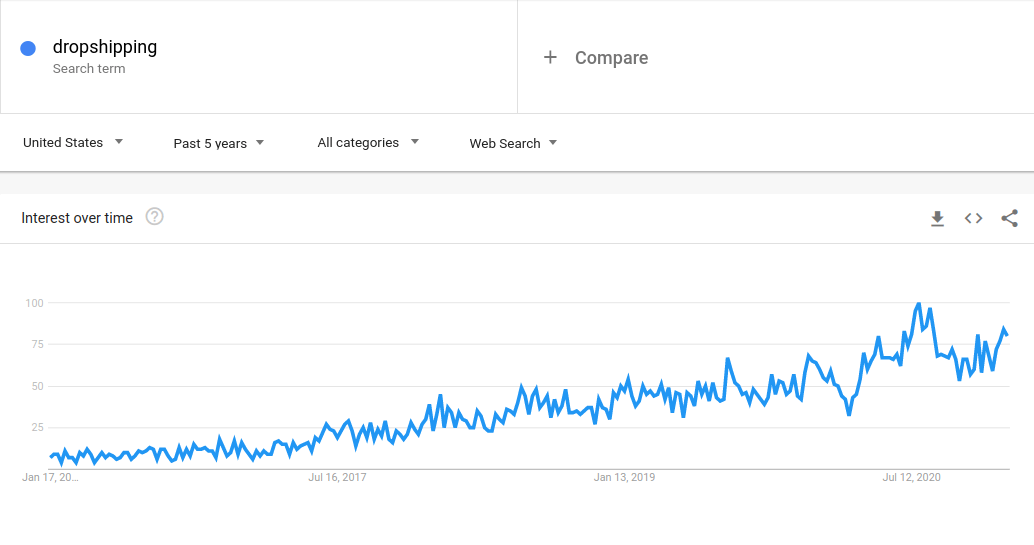 e-Commerce has already grown by an average of 16.5% worldwide. Across all regions, online e-commerce sales have grown by as much as 21.5%.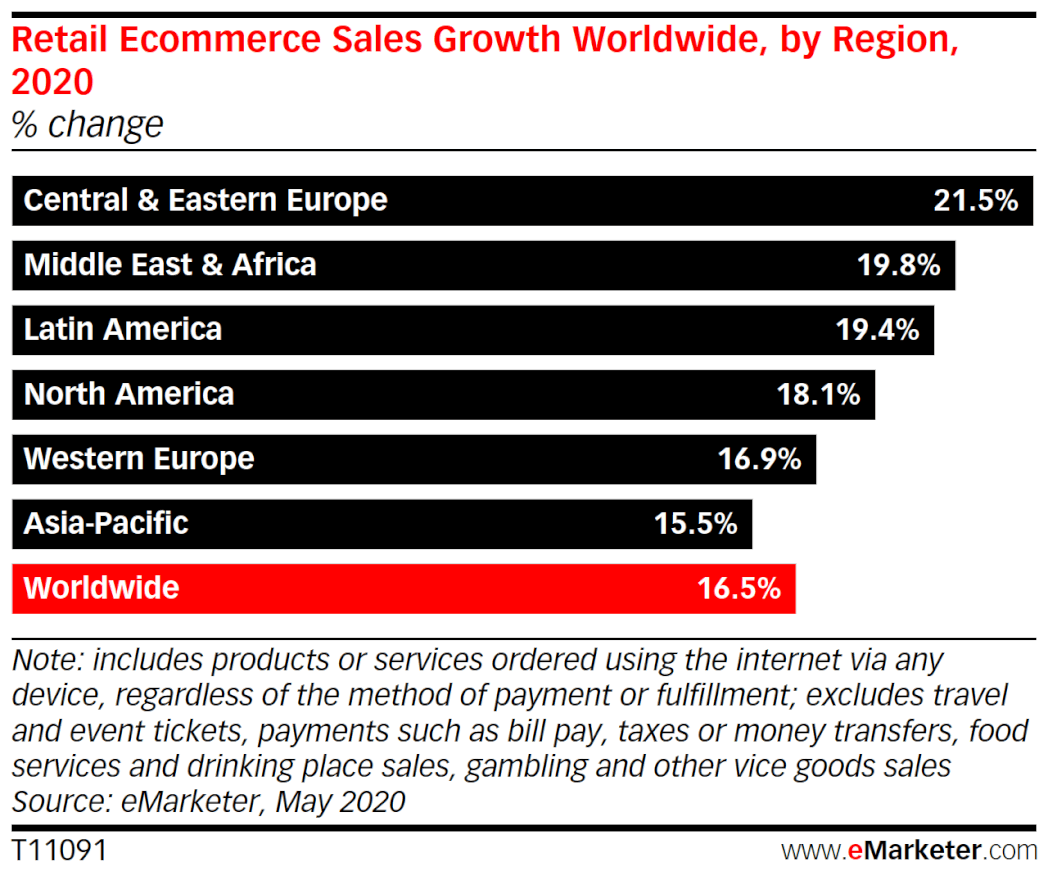 With that being said, there's also more competition in the dropshipping space. Gone are the days of throwing up a picture ad and landing profitable sales immediately. If you're looking for sustainable profits, dropshipping in 2021 requires selecting trending products and creative marketing skills.
Here are a few ways to succeed with dropshipping in 2021:
Keep your eyes peeled for trending products.
Learn how to differentiate yourself from competitors.
Select high-quality suppliers.
Improve your customer support systems.
Build a relationship with your customer post-sale.
Product Selection Ideas
#1 Posture Correctors 
With millions of Americans working at home, many people likely are suffering from the effects of poor postures, such as back pain. With a limited capacity at gyms and many outdoor restrictions, most people are living very sedentary lifestyles. A posture corrector is designed to restrain your body and keep your body in a healthy posture. This item receives about $22-$30 in profit margin and still receives thousands of orders on Aliexpress.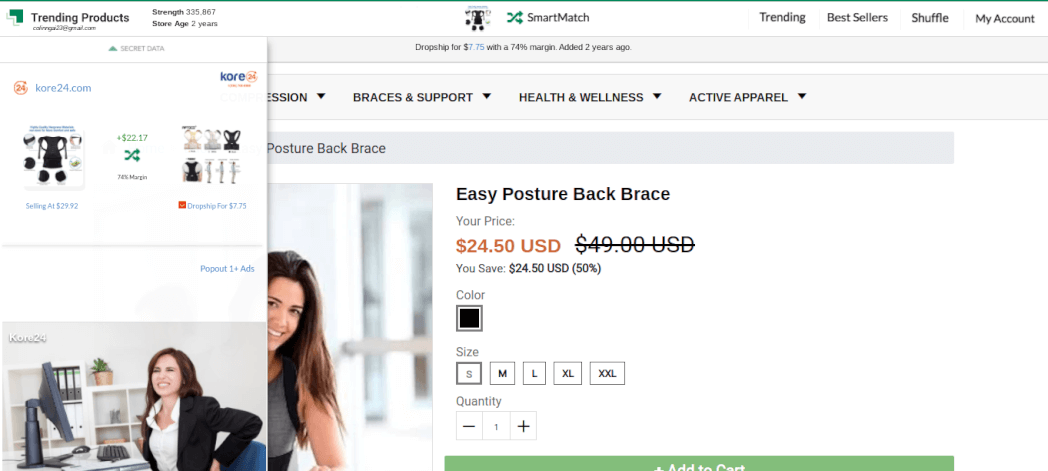 #2 Custom Cat-Shaped Pillows 
Since the start of covid-19, many people have become newly pet owners. Lack of socialization and forced restrictions to stay at home caused many people to feel lonely. Luckily, pets can't catch the virus, and they keep you company too! Packaged Facts estimates that nearly 71 million households in the U.S. own pets. This is an extremely large market and will continue to grow.
These custom cat pillows allow you to get a pillow that looks exactly like your cat! Simply upload a picture and select the size of the pillow you want. This makes great decor for your home or an excellent gift for someone you love. Our TrendingProducts chrome extension shows a whopping 1000k strength score. And the ad we've detected has 364 comments and 204 shares currently.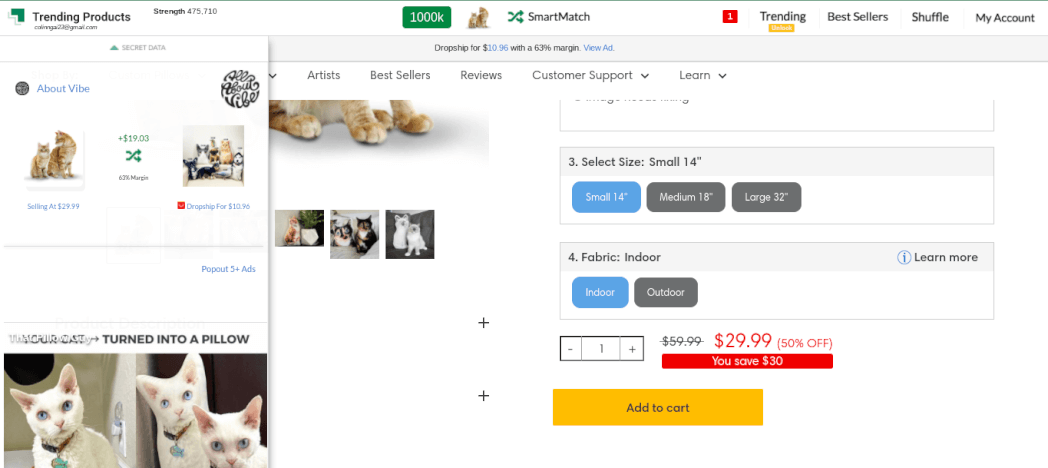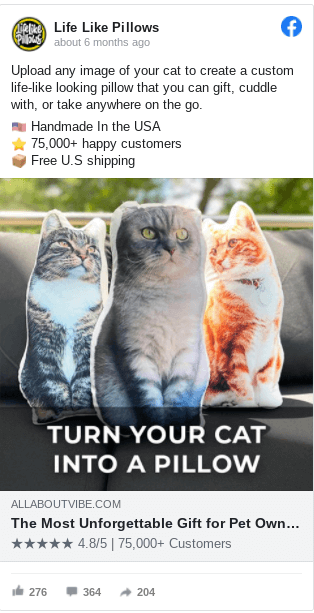 #3 Wireless Phone Chargers 
Wireless phone chargers are increasing in popularity, especially with the continuous upgrades in new phones. In 2018, the wireless charging market was estimated to be valued at $6.51 billion. By 2027, it's expected to reach up to $40.24 billion. Many handheld devices, equipment, and technology need charging to operate.
We've detected that this gadget store received 195,053 video views on their ad for their three-in-one wireless charger based on our software.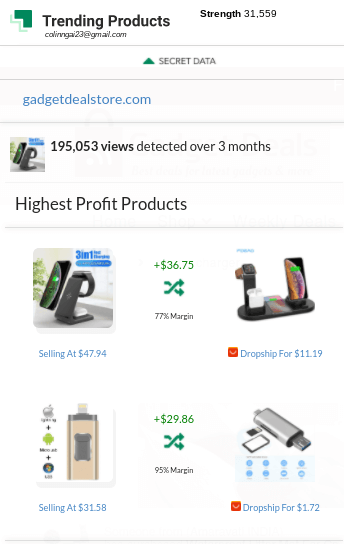 #4 Acupuncture Pen 
The global pandemic has caused stress to a lot of people. Work from home jobs has led to more muscle and joint pain. Prolonged sitting and keyboard use can cause all sorts of aches in your hand, wrist, hips, back, and legs.
With our trend detectors, we've found that their ad received 20,831 video views, 1k likes, 146 comments, and 469 shares. Our data projects that this product has a 100k strength score making it extremely high in demand. Also, it has a profit margin of about $27.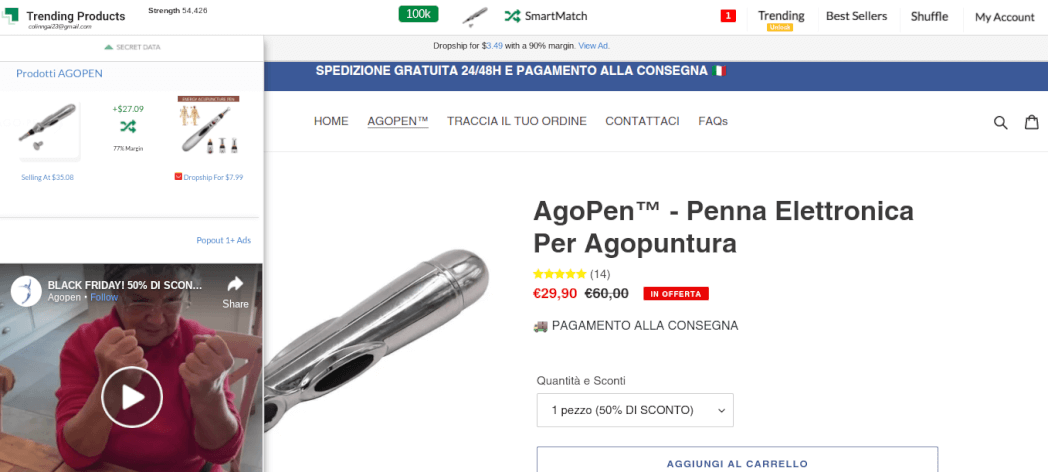 #5 Laptop Desk 
Sometimes sitting on a chair for hours can be extremely uncomfortable. Even if you're sitting with a healthy posture, it can cause stiff muscles. A laptop desk allows you to work while relaxing on your couch or bed. Furthermore, most laptop desks range from $60 to $400 on Amazon.
Our data found one with 616 likes in the last four hours and only cost a fraction of the price. This store sells the product for only $15!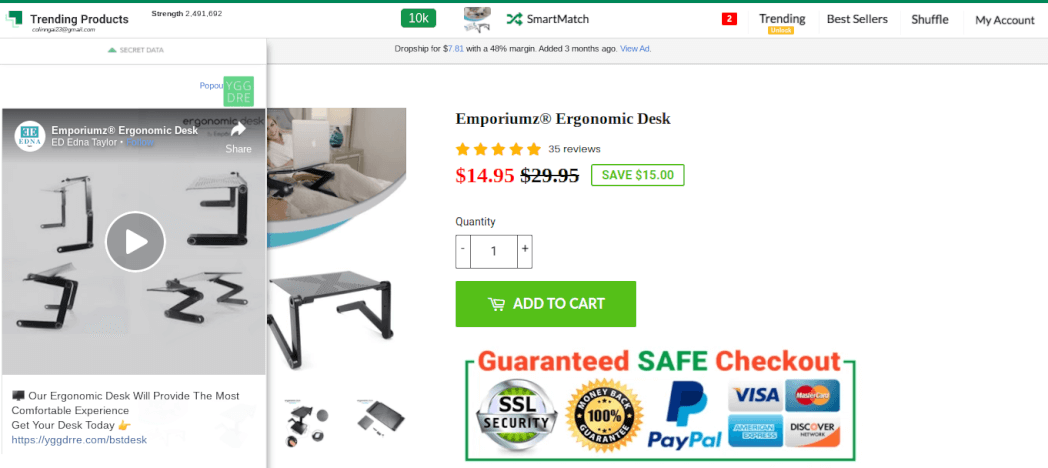 Final Thoughts
We know these uncertain times can cause anxiety within your life and business. In 2021, you can expect changes due to the release of vaccines and the potential improvement of China relations. This only strengthens your case for being a dropshipping.
In summary:
The release of the vaccine will uplift the economy and boost consumer buying power
The transition in the presidency from Trump to Biden can lead to foreign tariffs lowering and better relations with China
e-Commerce sales are at an all-time high and expected to continue souring
When it comes to finding products, most dropshippers tend to sell the same products that everyone does—no wonder why dropshippers tend to fail. With TrendingProducts, you can find less competitive items that are recently trending within the last day, weeks, or month, allowing you to cash in on the profits as it's peaking.
We hope you found massive value from this blog post and keep up to date with the dropshipping landscape.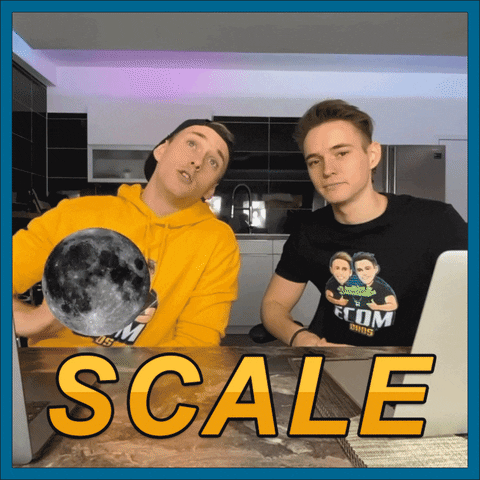 Written by Colin Ngai