If you've been in the dropshipping game long enough, you'll know that this is what dropshippers like myself live for.
Remember those days when people line up overnight (and sometimes days) just to get a good deal on a product?
With eCommerce, people are now lining up to buy their favorite items at discounts.
Here are a few stats for you to munch on:
46% of consumers are performing 75-100% of holiday shopping online
87% of Gen Z shoppers use social media for holiday gift inspiration, with Instagram, YouTube, and TikTok as the top channels. (Consider diversifying your ad platforms outside of just Facebook)
As a dropshipper, that means you'll need to get in front of the big retail stores by preparing and advertising well in advance.
You must get in front of your customers, so they're buying from you and not from other stores.
This guide will cover a list of products you can sell in Q4 and how to prepare for it.
Let's begin!
Product Selection
Before we cover how to prepare for Q4 drop shipping, let's look at the top-selling products you'll want to consider. Using our toolbar, we've compiled a shortlist of four products that we're bullish on.
Baby products are always a highly impulsive purchase. Parents and even relatives want to show kids and babies love, whether that's clothes, toys, or other products. During Q4, relatives, friends, and even co-workers will want to buy their loved one's baby a nice gift.
Baby Head Protector
The Baby Head Protector is a unique product, unlike anything they'll like at a retail store. It keeps their head safe from accidental slips and falls.
We We Like This Product:
We like the product due to its uniqueness and practicality. It prevents their child from hitting theory head and absorbing the impact.
According to our toolbar, the product only costs $6.26 on Aliexpress and can potentially reap 79% profit margins.
How to Advertise It:
Advertising it as a "fear-based" necessity will entice parents to make the purchase.
Obviously, you'll want to target demographics and interests such as:
Parenting
Motherhood
Fatherhood
Family
New Parents
Parents with toddlers
However, this type of product is scalable to all shoppers, especially in Q4, when people are gift-shopping for other people with newborn babies.
High Waist Sports Leggings 
According to Google Trends, leggings have always peaked in Q4, meaning their demand is always highest during the months of October through December.
With the new year around the corner, we believe buying leggings gives consumers the perfect excuse to get back to exercising.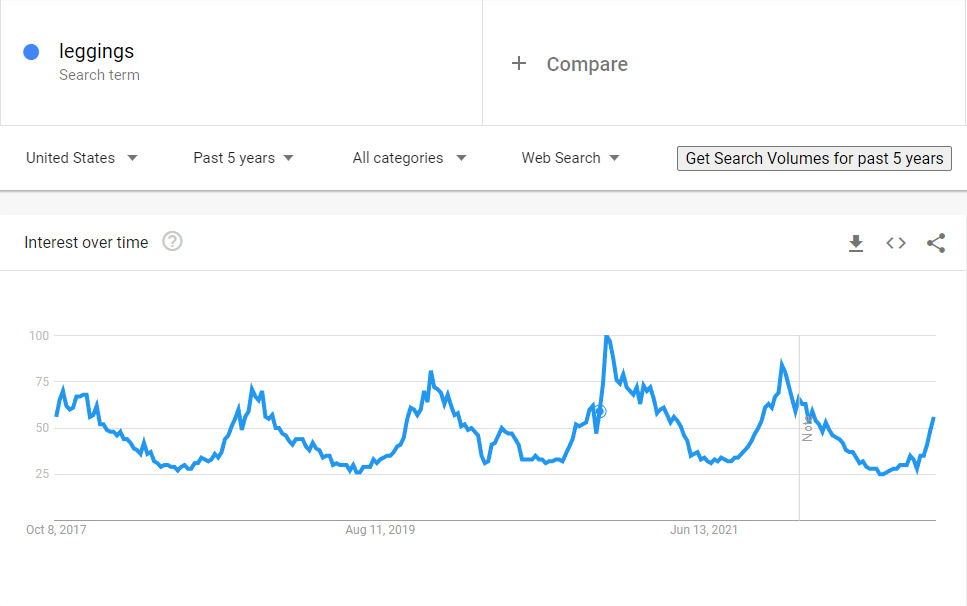 Source: Google Trends
We We Like This Product:
While leggings can be bought from anywhere, these high-waist sports leggings are high-waisted and provide a butt-lift, which are quite appealing for women who want to show off their curves.
These leggings feature a wide compression waistband to make women look like they have flatter tummies. The fabric is stretchable and breathable, so it's very comfortable for lounging around, exercising, or going about your daily activities.
How to Advertise It:
There are many ways to target these leggings. We recommend hiring influencers to create your ad creative so that it can help you create an attractive ad that grabs people's attention.
As for targeting, make sure to target women who follow athletic brands such as:
Also, consider interest targeting such as:
Yoga
Fitness
Weightlifting
Running
Physical fitness
Meditation
TV Backlight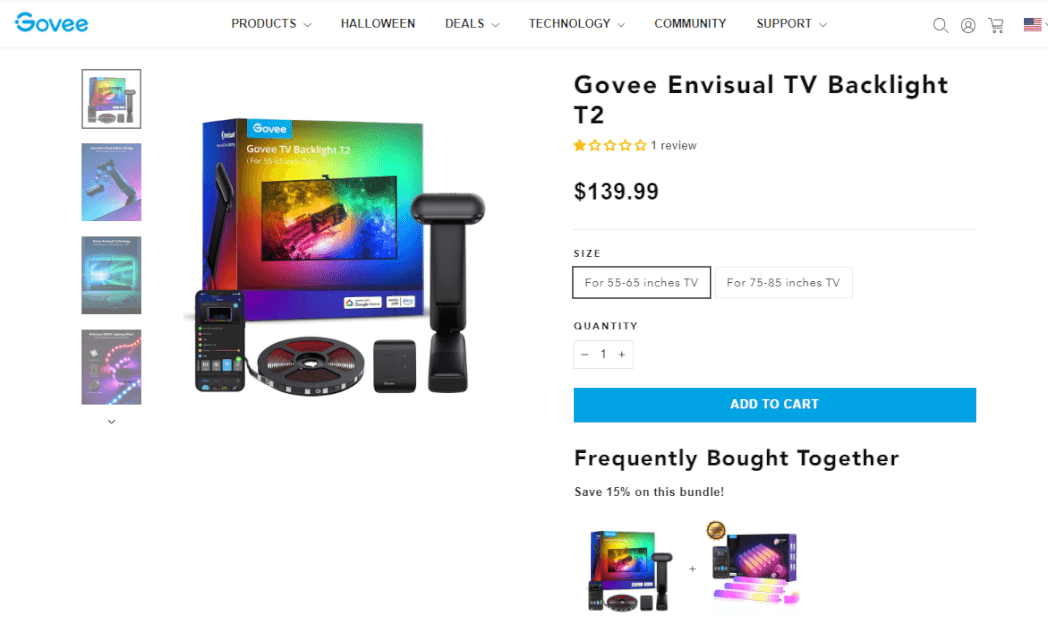 Source: Govee
TVs are a very popular purchase, especially on Black Friday and Christmas shopping. In 2021, TVs were the most popular purchase from Walmart.
Just like with leggings, TVs always have spiked during the Q4 season.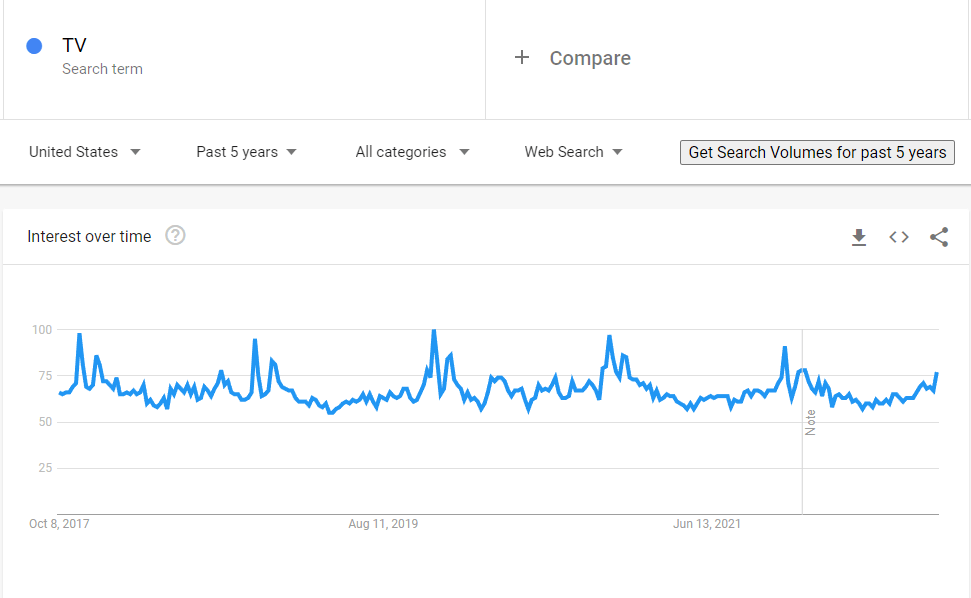 Source: Google Trends
As a result, selling a TV backlight is the perfect complementary piece to sell to consumers. Adding an LED backlight helps to illuminate their space and sets the mood for a relaxing evening.
We We Like This Product:
At a price of $13, you can easily sell this for two to three times to price.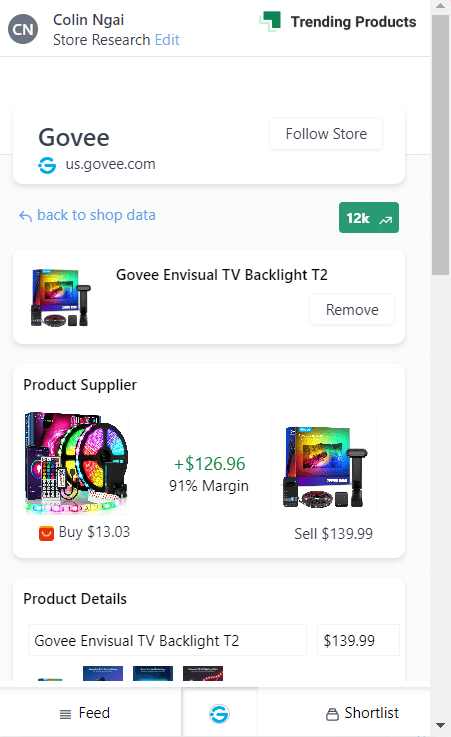 Source: Govee
Also, what makes these lights different from others is that it offers various control methods such as an app, control box, and voice control. That means you can change the colors or turn them on/off using your voice.
How to Advertise It:
Just by visiting the Govee website (found using Trending products), I was hit with retargeting ads on Facebook.
If you're looking for video creatives, consider going to eCommerce stores and initiating the checkout process.
There's a great chance you'll be hit with retargeting ads, which allow you to view their ad creative.
As for targeting, you can simply target various shopping or TV interests, such as:
Online shopping
Shopping malls
Discount stores
TV comedies
TV reality shows
TV game shows
TV comedies
Using Google Trends, we can see that states like Kansas, New York, Ohio, Arkansas, and West Virginia are searching the term TVs the most.
Source: Google Trends
Consider specifically targeting these states before you expand.
Facial Skin Enhancer 
Source: Confidence Matters
The global market value for natural cosmetics is rapidly growing with potential increases from 29.92 billion in 2021 to 50.46 billion by 2027.
Source: Statista
This only tells us that people want a natural and healthy alternative to improving their skin.
We We Like This Product:
The Facial Skin Enhancer is a unique product that massages your skin to help prevent inflammation and remove acne.
It also helps to tighten facial skin, leaving loose skin behind.
Acne is big insecurity for most people, so this gives consumers an easy solution to fix their problems.
How to Advertise It:
Some examples of interest targeting you should consider are:
Beauty
Spas
Cosmetics
Beauty Salons
Consider finding followers of famous brands to target like L'Oreal, Clarins, and Neutrogena.
Ecommerce Changes
The busiest time of year is fast approaching. With all the hustle and bustle, many changes will occur during Q4 dropshipping. For example, the spike in demand will pull on the threads of your supplier's inventory, shipping, marketing, and other areas of dropshipping.
With that said, we need to prepare for the following changes:
Increasing Sales 
Every year, online sales records are broken during Q4, which only speaks to eCommerce and online retail growth.
The benefits of shopping online are that it saves time and allows shoppers to shop around and find exactly what they're looking for in the comfort of their homes.
As you can see from Statista, the share of total sales from eCommerce has been steadily growing. We don't anticipate it slowing down anytime soon!
Source: Statista
Long Delivery Times
Due to the rise in sales during Q4 dropshipping, there are typically longer delivery times. Regardless of your supplier's best efforts to stay prepared, the sales volume is too large to maintain standard shipping times.
However, the cause for delays can vary. For example, the shipping company experiences delays due to processing and shipping high volumes of orders or high cargo traffic, causing longer custom clearance.
An excellent way to stay on top of this is to collaborate with suppliers and give them an expectation of the capacity that you expect needed to be fulfilled. You should always manage expectations with customers by giving them notice about the shipping times and offering great customer service during Q4.
Higher Marketing Costs
In Q4, marketing platforms tend to increase the cost of running ads by leveraging the rise in marketing demand.
Make sure to account for the increases in marketing costs by pricing your products appropriately and offering bundles so that you're still maintaining healthy margins even with promotional discounts and higher marketing costs.
One study performed by a marketing agency found that Facebook ad costs rose by an average of 29.48% in Q4 of 2021. They measured the average ad cost across their 18 active Facebook clients and compared those results to Q4 of 2020.
Source: Search Influence
According to their findings, the culprit was primarily due to the latest iOS 14.5 update which limited targeting capabilities, since iPhone users needed permission for Facebook to access their personal data.
In short, you should prepare for increased ad costs just from the excess demand for advertising. Consider other alternatives such as YouTube ads, influencer marketing, email marketing, TikTok ads, etc.
Stock Shortages
Another major change to consider in Q4 dropshipping is the potential for stock shortages. Since it's the busiest time of the year, order volumes will go through the roof. This is an overwhelming time and so it's common for some suppliers to run out of stock.
As a dropshipper, you can stay on top of this by working with multiple suppliers, so in case one runs out of stock, you can still fall back on another supplier.
Prepare your Store
Now that you understand the changes to consider during Q4, there are some tactical strategies you can implement to better prepare for what's to come. Here are some tips to crush the Q4 season.
Optimizing Sales
During this quarter, consumers are typically gravitating towards larger purchases. Especially since it's the holiday season, people may opt for gift sets for their loved ones or themselves. As an eCommerce seller, offering product bundles with a great selection of well-grouped items is beneficial.
You'll want to offer a discounted price for bundles, incentivizing consumers to buy more than just one item. This increases the average order and thus helps you to gain higher profits.
Govee sells its TV backlight along with a wall light and offers buyers a 15% discount for purchasing them in a bundle.
Source: Govee
Utilizing Email Marketing 
We can use email marketing to help reduce overall marketing spending. It's an excellent way to take advantage of our store's traffic visitors by setting up various email marketing sequences for people that abandoned their cars or initiated checkouts.
By retrieving email addresses at checkout, you can retarget visitors who've already shown purchase intent, making them more likely to buy, especially when reminded or offered a discount.
Trend Following
Undeniably, demand and shoppers' interests change constantly, and so do trends. As a result, we must continually stay on top of trends to remain competitive and relevant.
It's always important to always perform product research and check what your competitors are listing.
Fortunately, with product research tools like Trending Products, you don't have to waste a lot of time and money on products that don't perform well. Our toolbar lets you see how your competitor's products perform, so you can only test the most trending products that are selling well right now.
Source: Trending Products
Wrapping It Up
Q4 is one of the best times to dropship. Whether you're just starting your eCommerce selling journey or are a seasoned veteran, Q4 is a time when you must capitalize on it.
The increased demand is only around once a year.
This is the time to double down on your winning products and go hunting for those one-off seasonal products that make a killing.
With that, you now have a good understanding of how to prepare for Q4.
Now it's time to make some money.
Happy Selling!
Written by Colin Ngai