Pictures are worth a thousand words, but what is a video worth? Databox, a business analytics platform, conducted a survey in which they asked Facebook advertisers, whether video or image ads drove more traffic. The answer was undeniable. 59.3% said videos, while 29.6% said images and 11.1% of people said that it doesn't make a difference. Don't get me wrong; I'm not saying that images and carousels don't have a place, but video ads are far more effective in creating engagement. 
Examples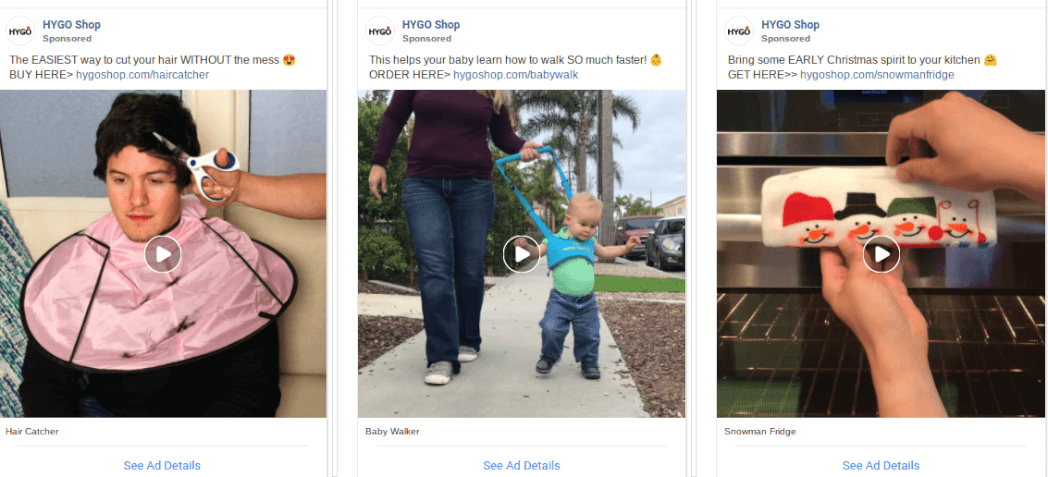 Have you ever seen viral videos on Facebook from bigger dropshipping stores that reach over 1 million views, or sometimes even 10 million views? Videos inherently stir up an emotion when we watch them. This makes consumers want to share and comment on them. In turn, this lowers the CPM allowing the video to reach more people, causing virality. As a dropshipper, it's important to understand how valuable it is to create the right video ad for your business. You may have an incredible product, but if it fails to capture your audience's attention or fail to convey its value, then your product will fail. Read on, because we'll give you a complete guide on how to create custom video ads that generate more engagement and better click-thru rates.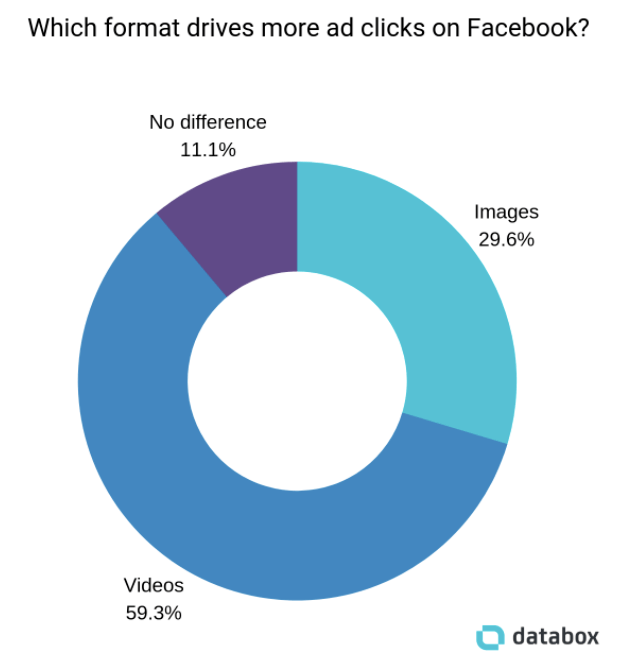 Creating Video Ads 
Now that you understand the importance of video ads let's talk about why you need to create your own video ads rather than copy them from your competitors. Most beginners simply just copy other competitor store ads. While that can result in sales, it can cause fatal consequences to your business. Here are the reasons why you should create your own unique video ads.
Unique Ad Copy 
If you properly watermark your ad, it will be very difficult for competitors to steal your ad creative. Unfortunately, since the entry barrier for dropshipping is low, dropshippers tend to take ads from each other all the time. This only leads to product saturation and undercutting prices. One way to make your product last longer is to create your own video ad.
Closed Ad Accounts 
Facebook won't shut down your Ad account. Unfortunately, just copying your competitor's videos will get your Facebook account banned. This means you shouldn't take the same exact video footage or audio from online. Facebook has cracked down on dropshippers and banned many of them for using the same ads. Follow Facebook's copyright infringement policy to learn more. 
Formula Winning Ads 
Develop a consistent formula for creating winning ads. Once you get into the groove of creating your own ads, you will have a formula to develop repeatable winning ads. You'll know precisely the factors that create a viral ad. 
Increase Conversions 
Many times you can revive an old product by creating a new twist or new ad creative to it. Maybe you already have a winning product, but you're noticing a decline in conversions or higher CPM's. Usually, it's because your video ad is getting stale. Changing it up can revive your ads as well.
Viral Ads To Lower CPM's 
Higher chance of going viral & Lower CPM's. Most viral videos become popular the first time it's released. You'll rarely find a repeat video gain as much virality as the first one. Virality means you'll reach more people without having to pay a high cost per click. You may get to a point where you're getting video views for a fraction of a penny. When people are engaging with your content, they will share and comment on them. This tells Facebook to continue to spread your ad further because people are enjoying it. You'll begin to notice a significant drop in cost per impressions. 
Video ads that are pieced together or copied from other Facebook advertisers rarely reach six-figures in sales or 1 to 10 million views. Being the first original ad usually leads to the bulk of the sales in the market.
For example, a brand such as Versafy creates its own dropshipping products and has many videos that crack the 1 million views mark.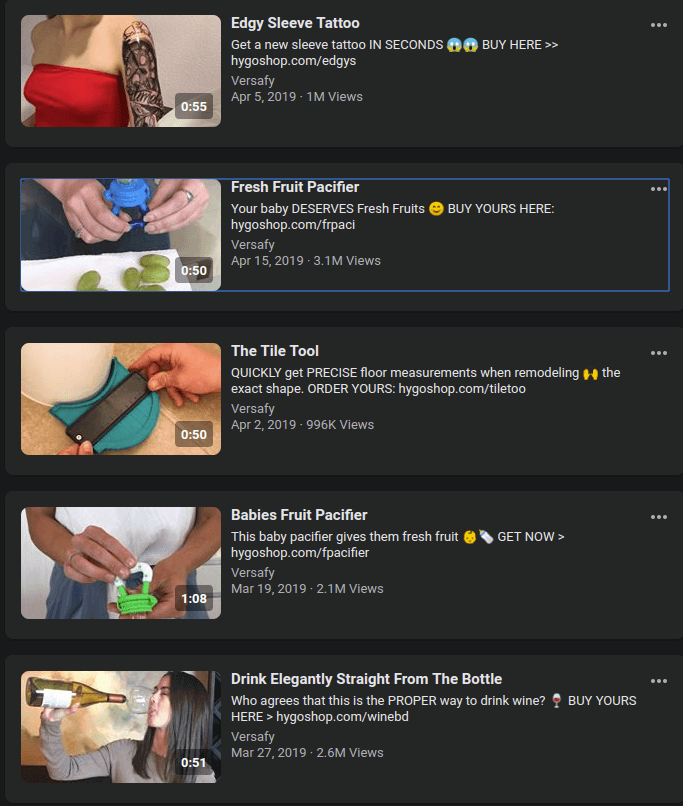 You may not get the crazy views without the ad budget, but you can still see amazing results. For example, on our Trending Products data, we can see tons of recent video ads that have recently achieved 70-95k video views.

Using Video Ads
When Should You Use a Video Ad?With the Facebook Watch section, Facebook does prioritize video over image posts. However, there are advantages to both. Video will keep your audience engaged for longer and more invested in your product. Pictures are easily scanned, and prospects know exactly what you're selling without watching a video to find out. 
Here are the key differences between video ads versus picture ads.
Video Ads 
Facebook's algorithm prefers video so they will prioritize them.
You can demonstrate and explain the key features of your product
Video view lookalike audiences are incredibly powerful. This allows you to retarget longer watch time viewers from people and remove people who click away after 2 seconds of the video.
Keeps visitors much more engaged
Video ads have lower CPM's than image ads.
Picture Ads
They have huge potential for simple products that don't require demonstration

Clothing
Jewelry
Accessories

You are less likely to get in trouble for copyright. Unless you're taking a specific studio taken photo from competitor
So, what type of ads should you run?

To demonstrate an example. Let's say you're selling a pet hair clipper like the one below. You want to show exactly the key features and demonstrate the products on pets, so visitors can visually see how it works for themselves.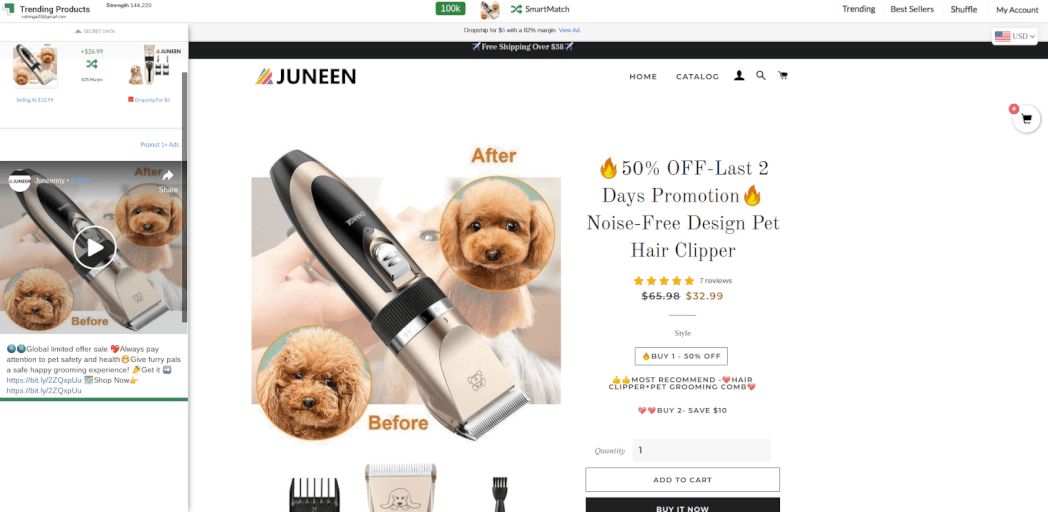 However, if you have a product that doesn't need many demonstrations like this necklace, then a picture ad may be more suitable. Typically clothing is an example of products that work better with photo ads than video ads.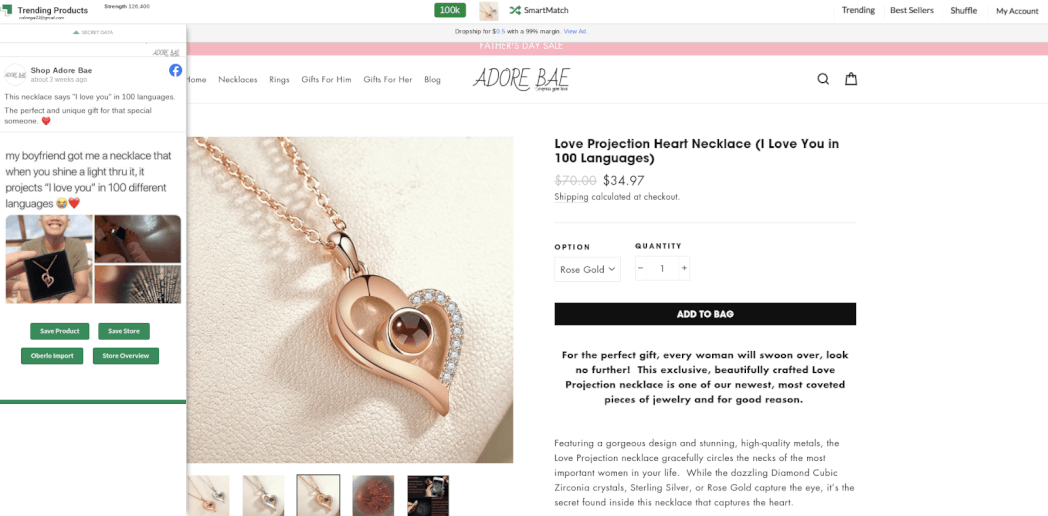 Most products, you should go with video ads. But make sure you immediately capture a person's attention within 3 seconds. You can always retarget your visitors with a picture ad or different video ads.
Step-by-Step Guide
#1 Pre-made Clips
The first step to creating your own video ad is to compile references from the internet. You could also use video clips potentially in your own ad. Here are situations where you may be able to use clips from the internet for your ad:
Video is directly sourced from your supplier such as Aliexpress
Video is focused solely on the product and does not show faces. Ideally, you would only take partial clips.
If you do take a clip that shows a person's face, make sure to credit the username of the individual who posted that video
You may compile clips examples by downloading it using the Trending Products toolbar. By compiling video clips, you are researching your competitors' videos to see how they structure their videos to get sales. Simply gather video ads to get a useful reference of how ads for your product look like.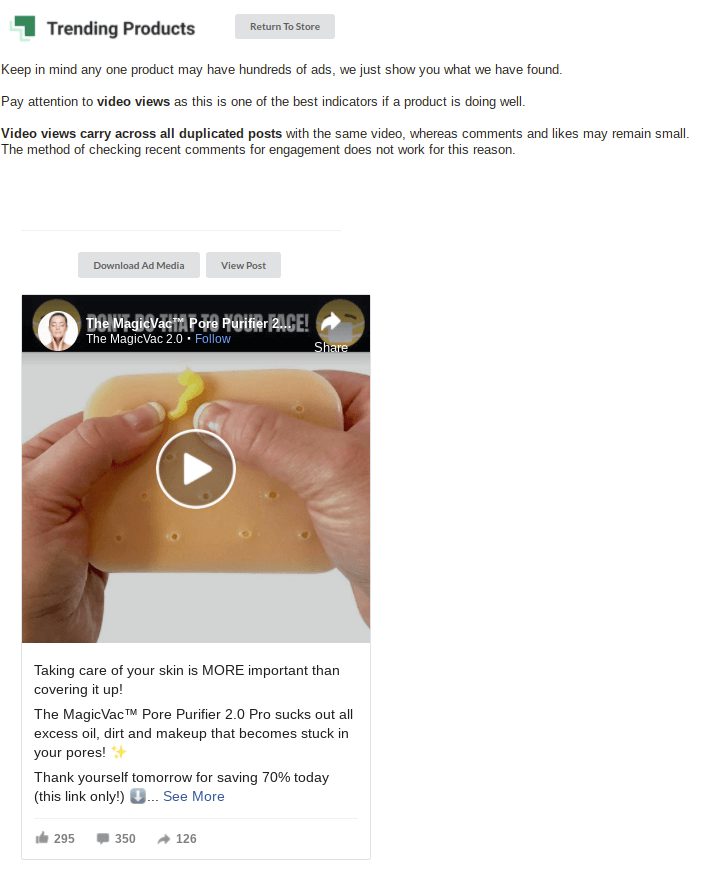 #2 Product Demo 
Next, you want to have raw footage of a video demonstration for your product. This is why television infomercials have been notorious for performing well. As Seen on TV products are still used by dropshippers to this day! There are three ways you can get a product demo; through Fiverr, social media influencers, or to film it yourself.
Fiverr 
Fiverr is a platform where freelancers post gigs about things they can do for businesses. You can find product demo gig services that people offer. Some common keywords that you can search for on Fiverr are e-commerce video, video model, female model, product video, product demonstration. The prices vary from $5 to a few hundred dollars. However, you should be able to get great footage for $30-$60.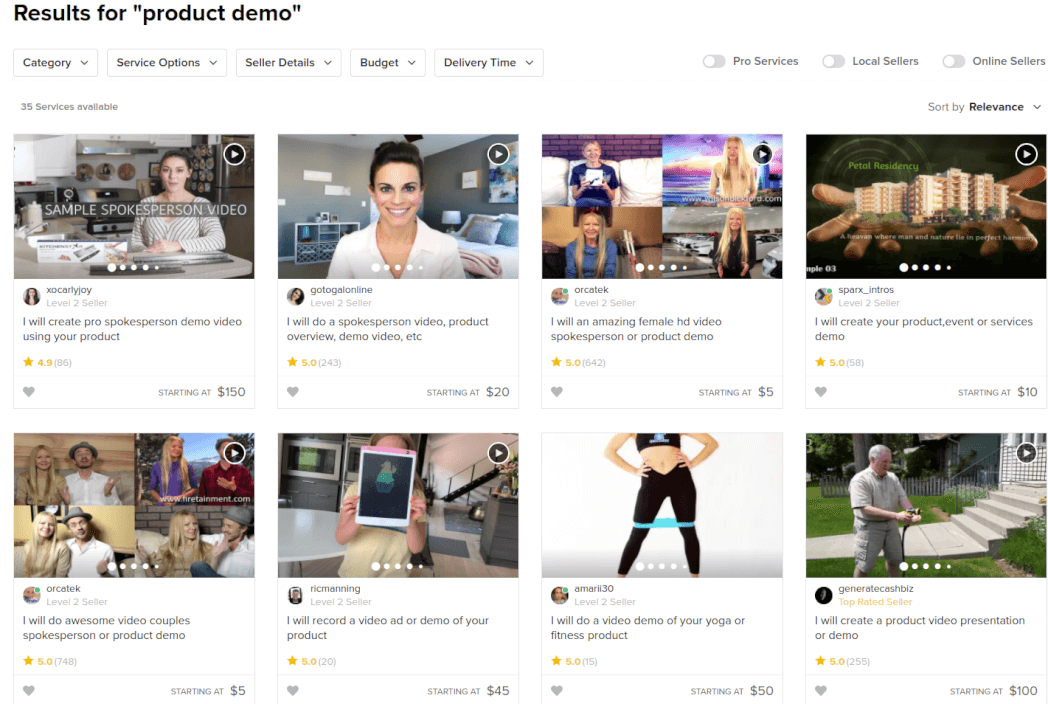 For instance, say you're selling a fitness product, it's incredibly useful to have an athletic person film themselves using the product.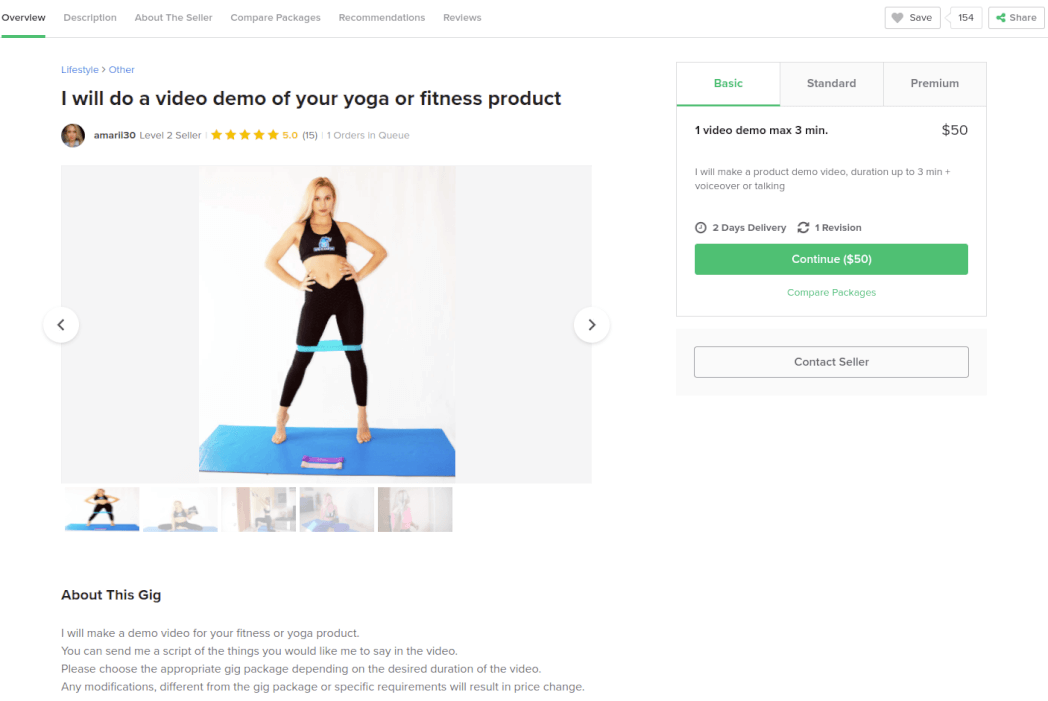 How to message Fiverr users:
Use the sample messaging script as a guide to contact Fiverr sellers to help them better understand what you're looking for. It's best to be clear about what you're looking for and show them examples to model off. This is why compiling video ads ahead of time is crucial, so that your product demo model can know precisely what you're looking for.
Hey there!
We are (Store Name) and would love to see if you would be able to help us with a demonstration video for our (Product Name) advertisement.
All we need is the raw content of you showing how to use the product as well as showing off its benefits.
We are looking for these clips:
Zoom in shot of you as you use the product
Footage of your putting the product on.
Before and after footage
…..
Similar to this video: (Link original ad that you put together from footage around the internet) < this ad already proved to do well, now you just need to get new original footage of the same actions.
Let me know if this is something you can do as well as please let me know your price for a task like this!
Influencers
The easiest way to find social media influencers is through Instagram or Youtube. It's best to find influencers that are related to the same niche you are in. Most influencers are great at looking good on camera and filming themselves. Simply send them a direct message on the platform or find their email to contact them. Keep in mind you're not looking for the person with the most followers. You just need someone to get you the raw footage. To save money, you can contact smaller influencers and even overseas influencers. With some influencers, you may be able to send them a free product in exchange for a video if the product is worth it.

What to Message Influencers:
"Hey, we would love to send you this ________ product for free, record this video and we'll pay you $50. No need for a story or feed promotion, just a simple video will work."

DIY Videos

Film Yourself or Get Video from Aliexpress Supplier. Filming the video yourself is extremely cost-effective, but may not be the most practical method. One way to get videos fast is to contact the Aliexpress supplier. Below is a video that we've found on Aliexpress of a supplier that provides a pre-made video for sellers. If the supplier doesn't have a pre-made video, we have an auto-contact feature to directly contact your suppliers. Simply ask them for raw footage of the product and tell them that you're expecting a high volume of orders for this product. Most suppliers would want to help you see that they would also benefit. You can take this video and add some text overlay. But, to make this video even more powerful, you may want to include a product demo with a real person.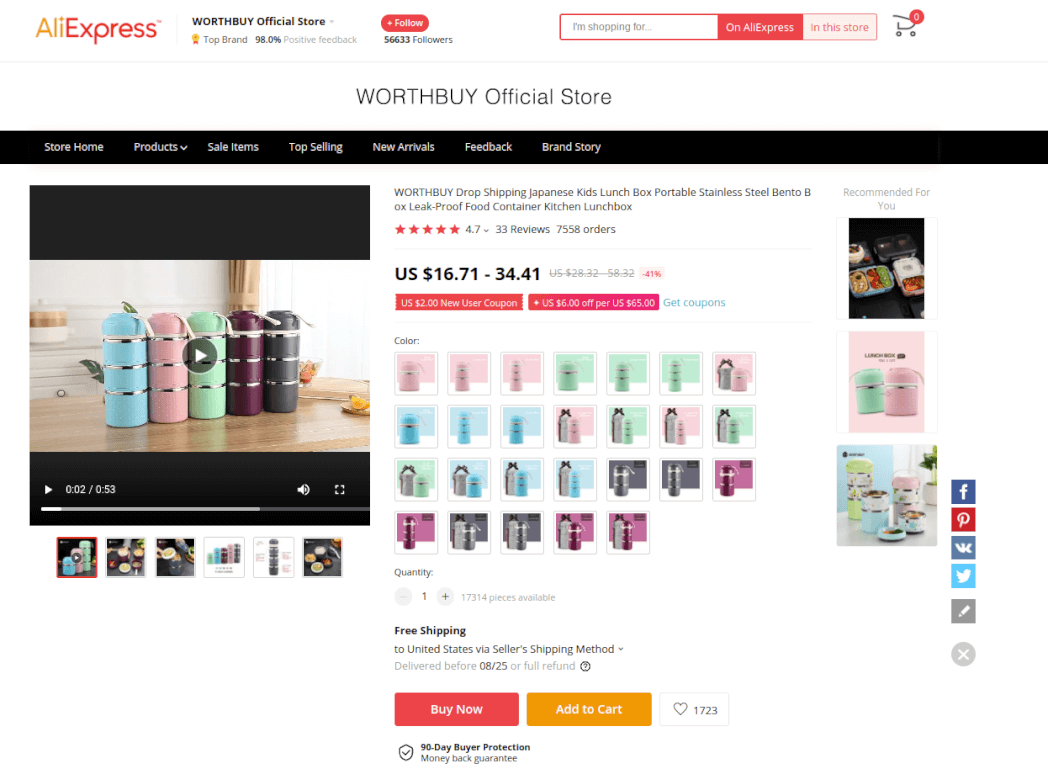 Video Scripts 
Adding a video script or text overlay is essential for helping prospects understand the key features and benefits that your product provides. Video scripting is also useful for grabbing attention and hyping your video.
An excellent way to find key phrases for your video is to look at competitor videos or competitor product pages for short, punchy lines. The goal is to highlight your product without being overly pushy. We want this video to look like a viral post rather than an ad. Except, you can add a simple call to action like "get yours now!"
Here is an example of a video script for a Charcoal Teeth Whitening Kit:
The internet is going crazy about this
100% natural teeth whitening kit
Made from coconut shell activated charcoal
Beauty Charcoal has developed
An enamel-safe formula
It's effects work instantly
Helping to remove plaque and
Surface stains on your first use
Tag a friend who needs this!
Notice that the video script is easy to follow along for visitors. They understand what the product is and how it will whiten their teeth.
#4 Making the Ad 
Now that you have the video script written out and the raw footage, you're ready to hop on a editting software to put your video together. Most people are intimidated by video editing software, but it can be straightforward. Softwares like Animoto let you edit videos for free using a storyboard format and an easy drag-and-drop system. 
Ideally, you can keep each clip to about 4 to 6 and insert a video script line for each clip. Make sure the first 3 seconds of the video grabs the viewer's attention immediately. Remember to add a watermark as well. You can add it to the center of the video to prevent your competitors from taking your ad creative.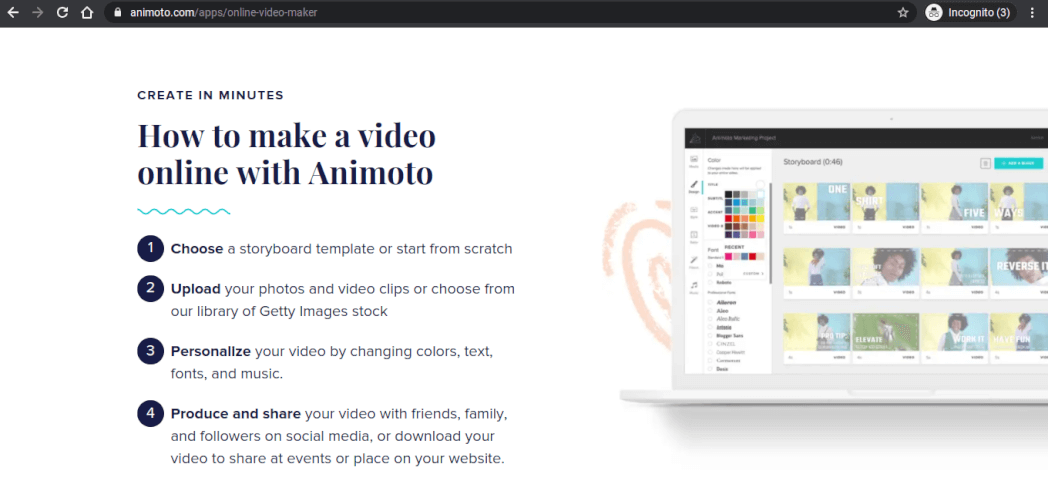 #5 Audio Sources
Now to finish your video, you will need a royalty-free background audio for your ad. The best audios are upbeat and light. One excellent resource is to use Facebook Sound Collection to find good background music. With this platform, you can browse tracks by genres, moods, duration, and vocals or no vocals. Other resources for music are YouTube Audio Libray, Epidemic Sound, AudioJungle, AudioBlocks, and SoundCloud.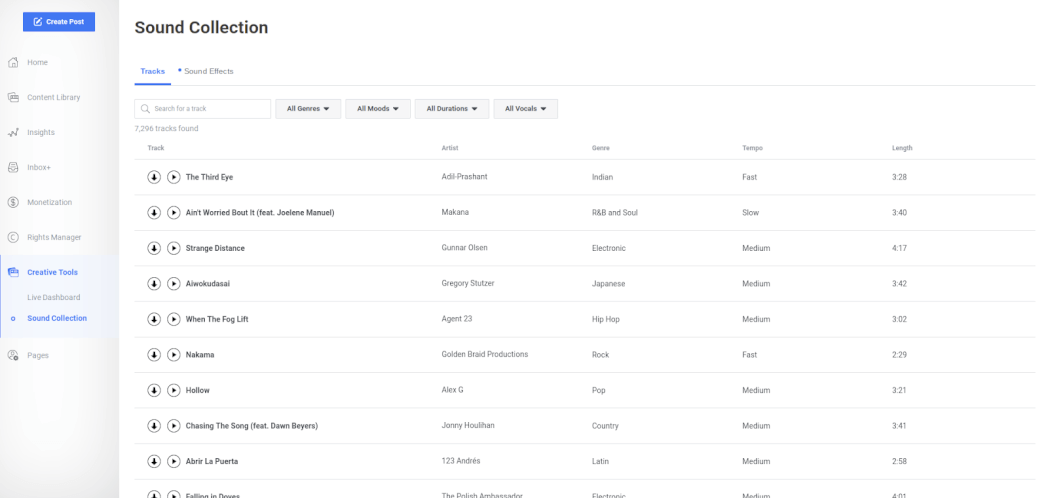 Final Thoughts
Creating custom video ads is something that the top dropshippers know how to do. To this day, many beginner and intermediate dropshippers still copy full videos from competitors. And although they can work, it runs a massive risk of ad account suspension. Leveraging your own ads help you scale faster and make your dropshipping product stay profitable for much longer. We hope this tutorial helped you get a better idea of how to create custom video ads for your products!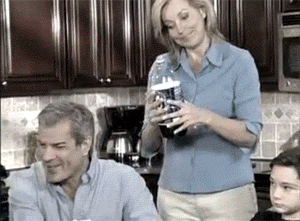 Written by Colin Ngai