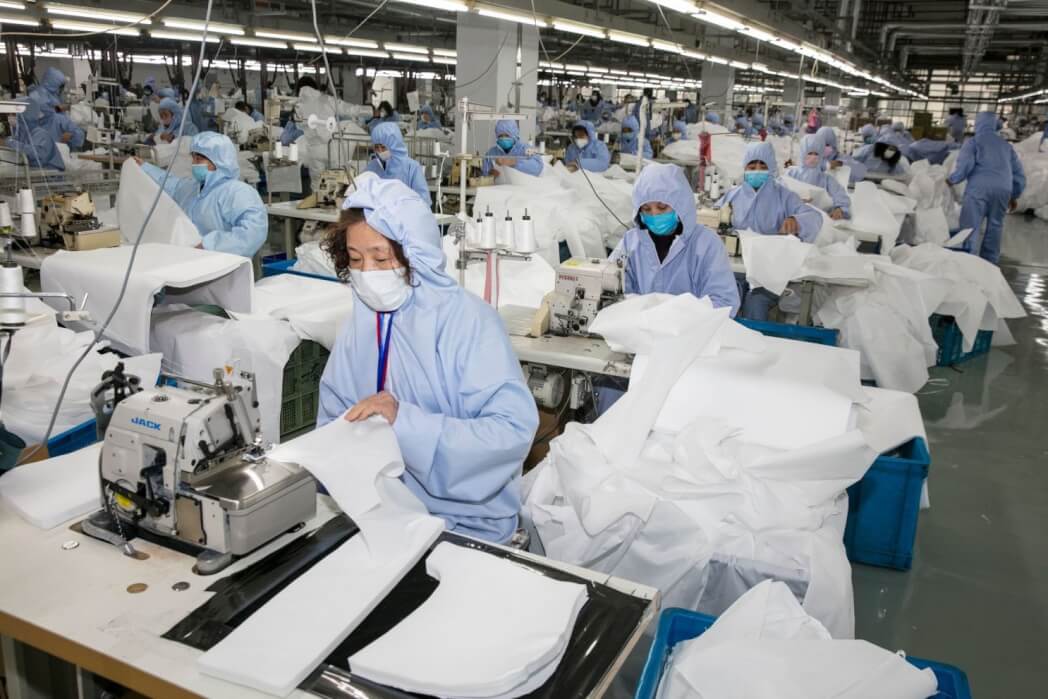 There is no doubt that by now you are already aware of the Coronavirus. This widespread pandemic has not only affected how we live but also consumer behavior and business production as a whole. Think about the panic that is going on in the world such as virtually every grocery store running out of hand sanitizers and toilet paper and the US stock market falling faster than the 1929 Wall Street Crash.

To be frank, I'm not an expert when it comes to the science of COV-19. But we can look at the current events and see how the world is responding. With all of the negativity surrounding the world, it's important to realize that Dropshippers and e-Commerce store owners can still thrive even in times of uncertainty. In this article, we'll shed light on what you can do as an existing dropshipper to thrive during the period of the Coronavirus. Keep in mind that the world is reacting and changing daily, so you'll want to keep up with the worldwide news to see what is best for your specific situations. These recommendations are written based on the time of March 2020.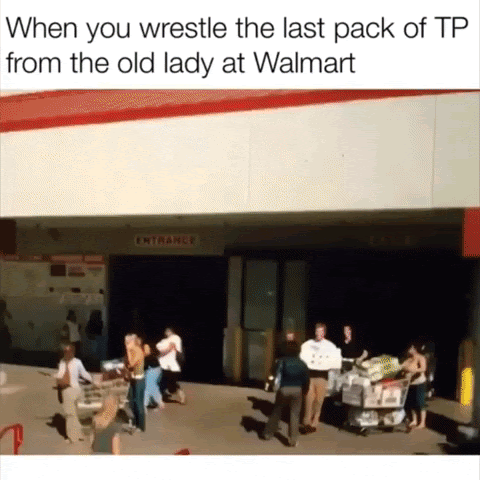 Dropshipping Post Pandemic
Countries still in Quarantine 
Staying in the loop about which countries are heavily affected by COVID-19 and which countries are still relatively safe allows you to better gauge where to market your products to. However, by now most of the major countries are already being quarantined or advised to stay at home.
Consumer Buying Behavior
To me, this is a situation of glass half empty versus glass half full. If people are being quarantined, you have to analyze how people would be behaving across various age groups. For example, if everyone is forced to stay at home, the mass consumers will likely spend more time on their phones and will prefer to purchase products online over physical retailers. The downside is businesses aren't making money therefore some employees will enter financial difficulty. This means some consumers won't be able to afford to buy non-essentials items. However, in the United States, President Trump is looking to provide a stimulus package of $1,000 every two weeks to adults and $500 for kids during this crisis.

Certain Manufacturers Have Shut Down
Many countries have already stopped business operations or at the very least made work-at-home to be mandatory. Some countries are shutting down factories that prevent the manufacturing of products and warehouses may also experience a shortage of workers. This means the supply chain has decreased and items may be out of stock. As of now, it seems as if most dropshipping products are still produced and sent out for shipment. The industry that is the most impacted by this are automakers. Another example is that Italy has shut down completely, so having manufacturers in Italy won't work.
Travel Restrictions Affects Supply Chain
Since many countries are restricting travel to certain countries and closing off borders, many of the shipments that are carried through the air cannot be delivered. This can make shipping abroad outside of your domestic country very difficult. It's important to communicate with your customers if you are expecting delays in shipping times.
Practical Tip:
In order to survive this fiasco, the safest way to ensure your products are produced and delivered is to have your supply and your customers in the same country. For example, if you live in the United States, it would be easy to only sell your products to United States customers, since shipping costs are increasing and impromptu long delays will arise especially for international shipments. So, consider postponing all international selling for the time being.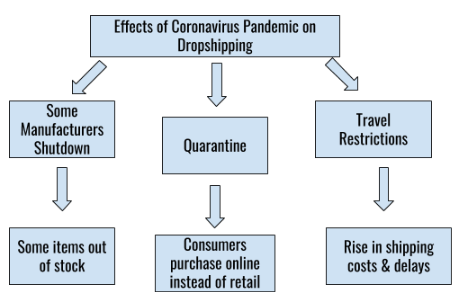 Government Relief Programs
Not only are governments providing relief packages to consumers, but all many small businesses who are directly affected by COVID-19. Refer to this article to see if you may be eligible for a loan to keep your business afloat.
Finding Trusted Suppliers 
U.S/EU Suppliers:
The biggest advantage of choosing a domestic supplier is that your customers will almost always get their products much faster. This allows you to stay competitive with big online retailers such as Amazon and Target. But you also differentiate yourself from other dropshippers who have shipping times of 4 weeks or more. Furthermore, many domestic suppliers allow you to personalize your shipments such as branded invoicing, print on demand, higher quality products, and better packaging. The biggest drawback to domestic suppliers is that typically you're looking at higher product and shipping costs which could cut into your margins.
But think about it this way. Who would want to buy from your store again, if your shipping times are 4 weeks, only to receive a product with generic packaging? You're way more likely to earn repeat buyers using domestic suppliers.
Spocket: US/EU Suppliers
Spocket is a platform that lets dropshippers source their selection of products from US or EU suppliers. The app is integrated through the Shopify app store. This platform allows Dropshippers to order samples with just a click of a button making it efficient for you to test out the quality of the product before advertising them. Spocket essentially replaces Aliexpress or whichever supplier you're using because it provides tracking numbers and order fulfillment. According to their website, they aim to keep margins at 30-60%. The major drawback that I see with this platform is that you can't directly contact the suppliers. You can only contact the customer support of Spocket.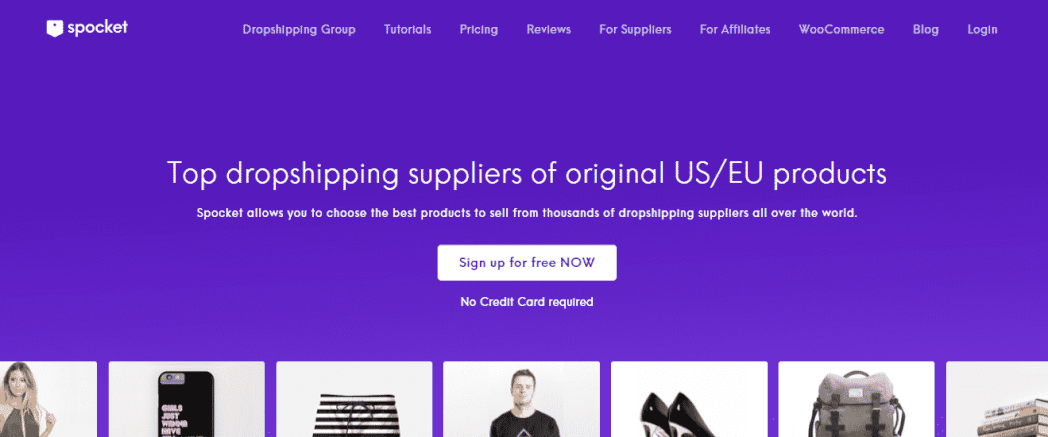 Aliexpress – US Suppliers
Most people believe that Aliexpress only is shipped from China. However, recently, Aliexpress has branched out and has warehouses in the United States as well. When searching for a product to sell, simply click on the "Ship from" dropdown menu and select United States. By shipping from the U.S., you can expect a 4-7 day turnaround time and also higher shipping costs compared to China.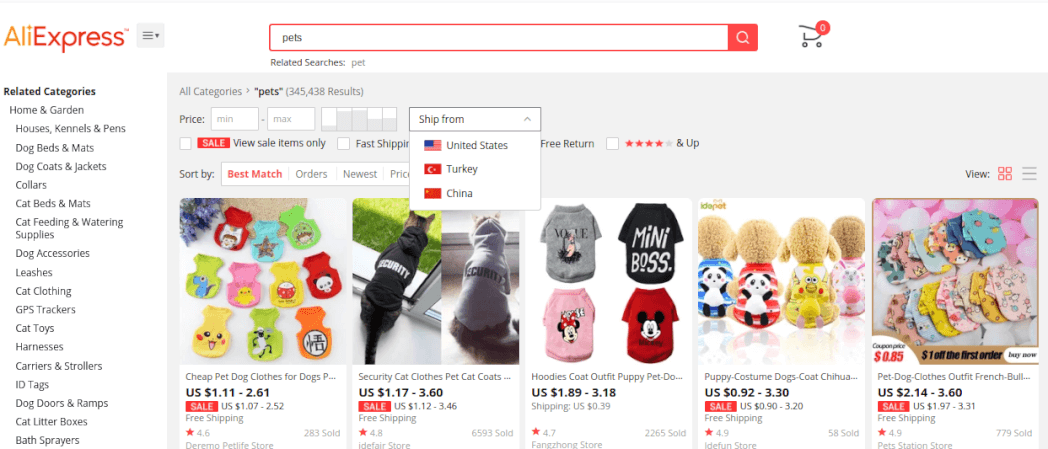 eBay – US Suppliers
Another underrated option is to simply source your products from eBay. On the product page, you'll see next to the Shipping information, where the product is being shipped from. And you can also see how many items the seller has sold as well as their positive feedback score. You may contact the seller prior to making your orders to ask them about inventory numbers, confirm shipping times, and product quality. For example, you can see that this pet glove product on eBay is being shipped from "La Puente, California." The seller has a positive feedback score of 99.6% and has sold 4,228 of these pet gloves.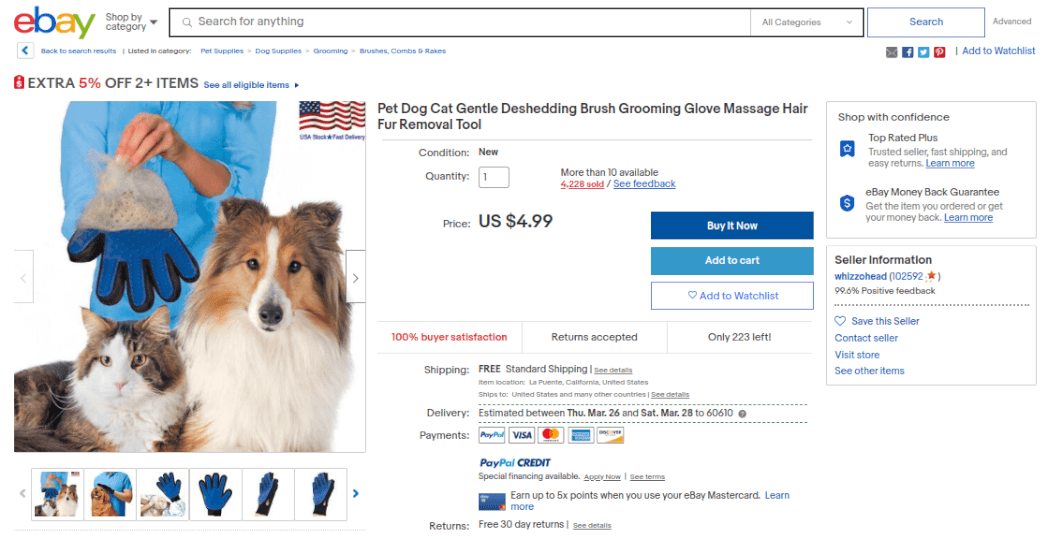 If you're looking for other dropship suppliers by specific countries such as Canada, Australia, and even India you can check out this resource here.
Chinese Suppliers
The most important thing to do when finding a supplier is to have very transparent communication about the costs for each carrier and what items if any have restrictions or selling limits. I've attached a few screenshots of recent social media posts from a trusted Chinese supplier agent company that works with dropshippers. Keep in mind, you may want to talk to multiple reputable suppliers just to fact check about the current shipping prices, regulations and restriction limits.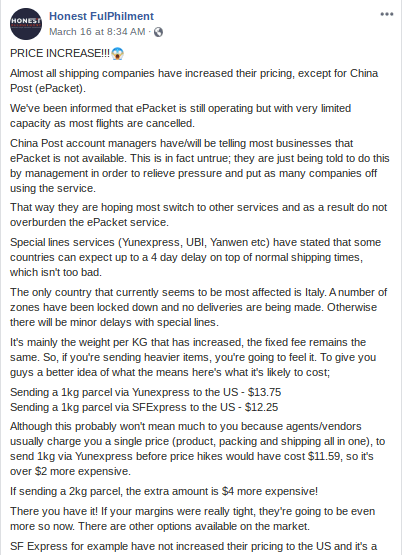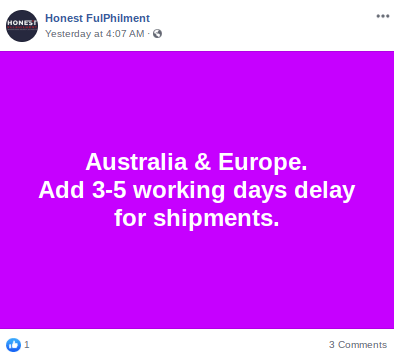 Aliexpress Suppliers:

Contact Suppliers Using AutoContact on Trending Products:
When contacting your supplier, make sure to gather the essential information such as accurate shipping times, shipping prices and stock availability.
Check for Supplier Ratings:
This is a best practice anytime you source from a new supplier and it's more important now than ever to do your due diligence. You may click on the store name of the supplier and check for their ratings (ideally above 4.5 stars), and have been in business for a minimum of 2 years.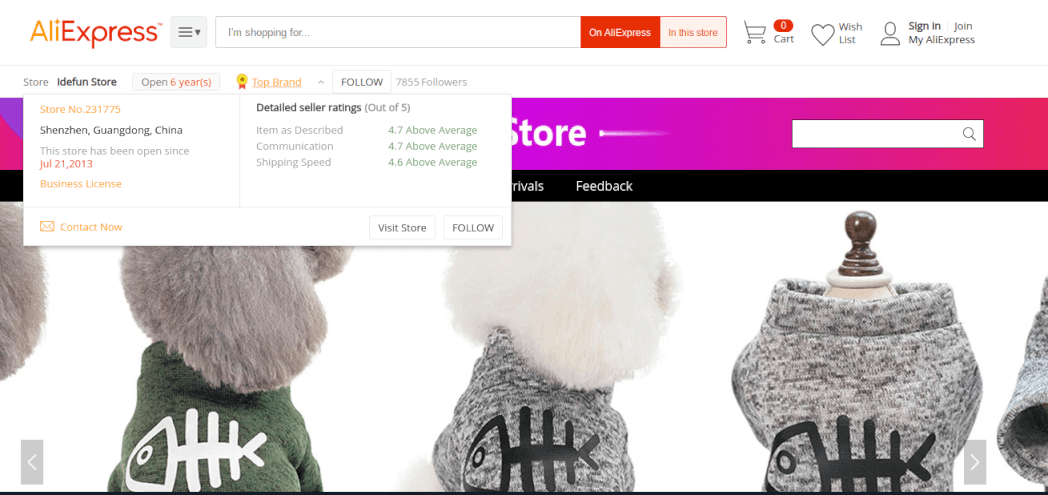 Branding
It goes without saying Branding is always essential for any e-commerce brand. 58% of online retailers say that the virus will impact consumer confidence. With consumers in panic mode, people are filled with fear and skepticism. If you can be a trusted "brand" during this time, you will be able to gain repeat customers and be ahead of your competition. Frankly, it can be difficult to compete against Amazon and some of the more trusted retailers. But, you can differentiate yourself by offering higher quality products, unique products that solve a problem and be the first to be seen through omnipresence.

Tips for Branding:
Add a simple paper message to all of your packaging explaining to your customers about how you ensure care in your products during this crisis.
Become informative to your consumers. For example, if you're selling health products share with them health resources pertaining to your product.
Remain omnipresent across social platforms and advertising. People will be on their screens more than ever and you have the opportunity to grab their attention.
Products Types
Sell Products People Need, Over Luxuries.
As a dropshipper, realizing that most people will undergo more financial hardship means to sell products that are more of a "need" instead of a "want." One way to turn a product to something a person "needs" is by providing overwhelming science-backed evidence to why your product is needed during this crisis.

Please note that according to Facebook and Shopify regulations, sellers are banned from advertising and publically selling commerce listings of N95 masks online. In a statement made by Facebook, they said, "Our teams are monitoring the COVID-19 situation closely and will make necessary updates to our policies if we see people trying to exploit this public health emergency."

New Problems Due to the Coronavirus

Think about all of the problems that are arising because of the coronavirus. This means that there is a silver lining for dropshippers to sell products that can satisfy consumers. Here's a handful of ideas I've come up with to help get your brains churning.

| | | |
| --- | --- | --- |
| Action | Problem | Solution |
| Children are pulled away from school | They are bored at home | Entertainment or learning system |
| People are fearful of air particles to catch the virus | Can't control their air quality | Air Purifier |
| Kids, babies and people in general are touching their face, eyes or mouth | Touching face may spread the virus | Some type of gloves people can wear |
| Hand sanitizer ran out in stores | Can't clean their hands | Show that soap is much more effective than sanitizer. Sell unique soap. |
| Gyms are closed | People can't workout | Home workout product to stay in shape |
| Restaurants are closed | Some people don't cook well | Kitchen product to help make delicious meals |
| Baby diapers is sold out in grocery stores | Babies don't have their diapers | Sell reusable baby diapers |
| Cleaning supplies are running low | People can't clean their homes | A variety of home cleaning products |
| People are afraid to get sick | The thought of getting sick will make consumers panic | Any product that can help prevent "sickness" such as tea, increase quality of sleep, water intake |
| People are hoarding groceries during quarantine | Produce food can only last for so long | Sell produce saver storage containers or bags |
| Most people are stressed out or bored | They are staying at home not knowing what to do with themselves | Products that are proven to reduce anxiety or stress, such as using aromatherapy, meditation, yoga, physical activity |
Sell Home, Kitchen, and Pet Products
Since people will be spending all of their hours at home, it only makes sense to sell home and kitchen products. On Trending Products, you can conveniently browse your trending feed by niche. Scroll to the bottom of your Trending Feed to select which niche you'd like and browse through hot selling products in that niche.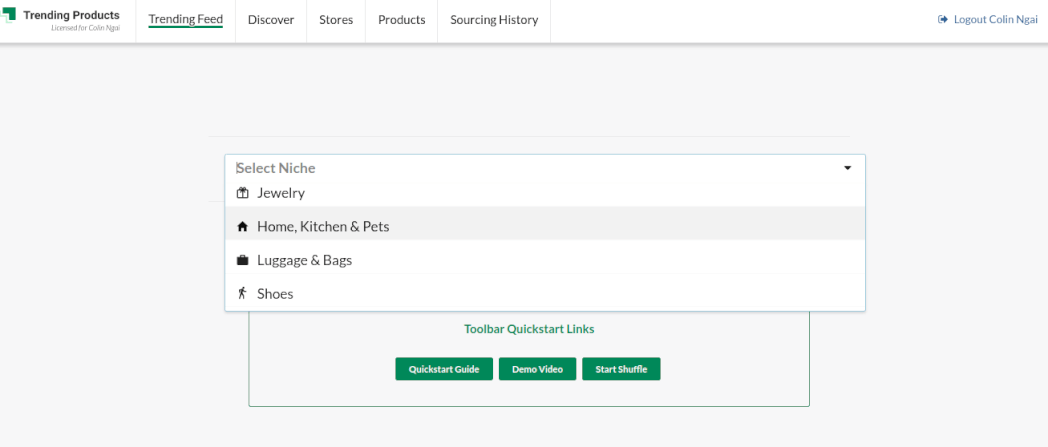 How Trending Products Tools Are Designed to Make Finding Winning Products Easy
Using Multiple Data Points:
Our software scans thousands of trends daily and tells you various data points that are found correlated to a product. For example, you can see the secret data tab on a store that we are spying on. This store is wildly successful and you can see all of the best recently performing ads, highest profit products, all of their store's products with ads as well as their products they have recently tested! This is by far the most comprehensive product research tool in the market.
Notice the top for products say "X views detected currently trending." Those top 4 products are the products that are performing the best for the store Tues Crate.



Examples of Products to Sell from Trending Products
Power Cleaning Tablets
This Power Cleaning Tablet dissolves in water where you can easily put it into your spray bottle. This is an all in one cleaning agent that can clean your kitchen, bathroom, windows, carpet, and furniture. It saves the consumer from buying many different types of cleaners! Grocery stores are likely going to be running out of cleaning supplies very soon. Our data shows that this product has a 100k potential and the margins are 95% at $22.09. Also the CDC (center for disease control and prevention) has advised people to wipe down and clean all hard surfaces in their homes such as tables, countertops, light switches, doorknobs and cabinet handles.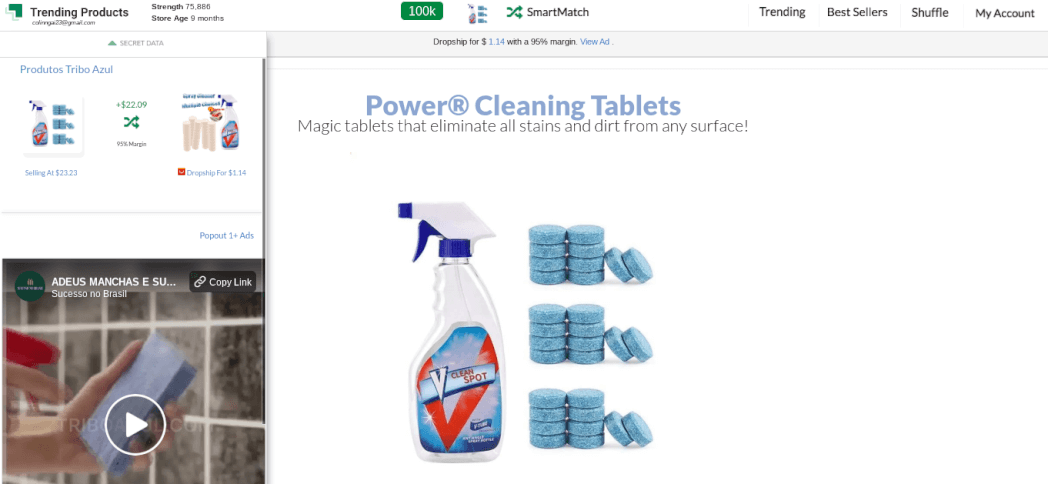 Sink and Drain Pipe Dredging Powder
Trending Products provides real-time data so you can see how products are performing recently. You can see that this draining powder picked up a whopping 100,470 views in only the last 7 days. In the midst of the coronavirus, it seems that this store Tuesday Crate decided to further scale its ads. In about 3 weeks' time, this ad has 558,719 views, 2.7k likes, 535 comments, and 1.1k shares. One way to ensure your product will perform well is to see the engagement on Facebook.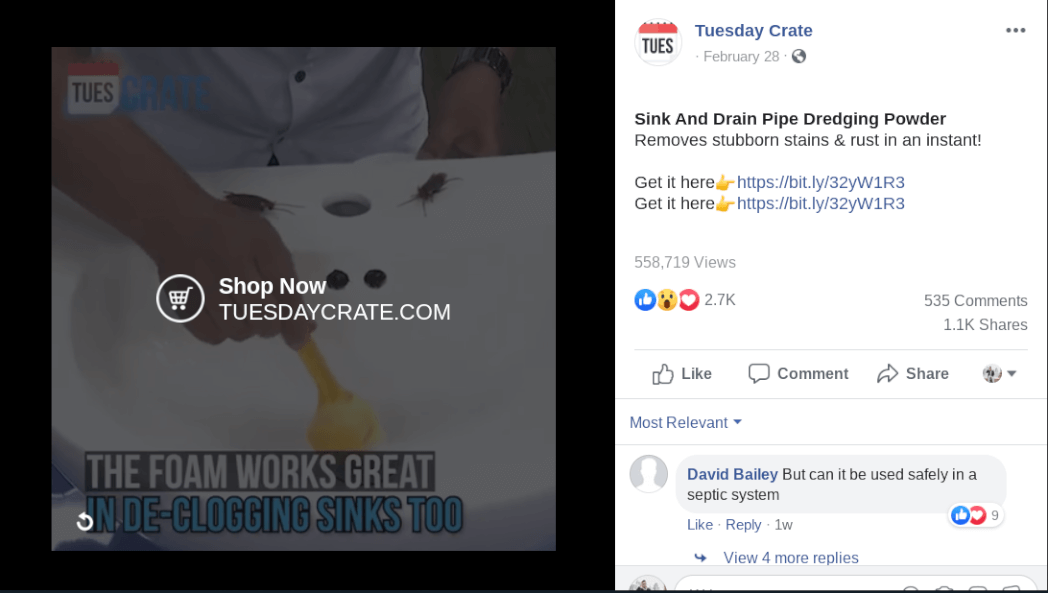 Lint Lizard Vacuum Hoser
Lint and dust around your house can cause health problems due to the tiny particles that are exposed in the air. If inhaled, they can cause irritation of your eyes, coughing, sneezing, hayfever and asthma attacks. During a time where the public is already "OCD" about being clean and staying healthy, this will relieve their fears. Not to mention, this product has 15K likes, 5.5k comments and 11k shares on the detected Facebook ad this year!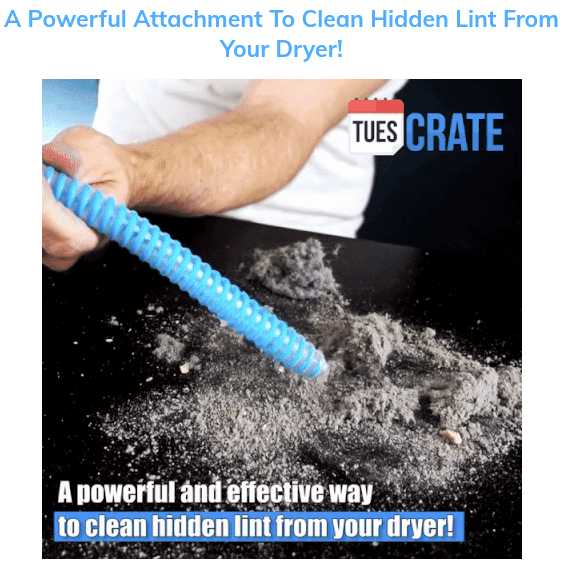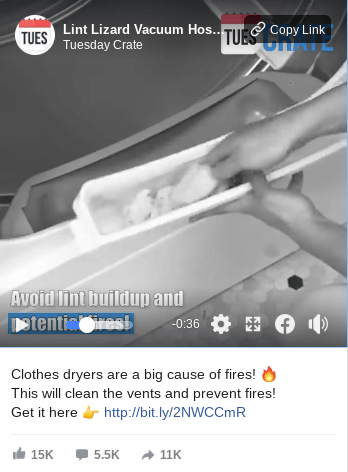 Frostbite Air Cooler
For this product, I don't have the stats to back up my point. However, I do believe it's a good idea to look into this further. Products that improve air quality such as air purifiers and aromatherapy can help our overall health. Health is the number one priority in the world right now. This air cooler will humidify and clean the dust particles for better air. Furthermore, it's eco-friendly because you simply fill this cooler with water and use very little energy compared to blasting the AC all day. For those who experience financial hardship, this will be a way to save on their electricity bill as well. Currently, the product costs $7.99, and you can sell for nearly $30 with a 79% margin.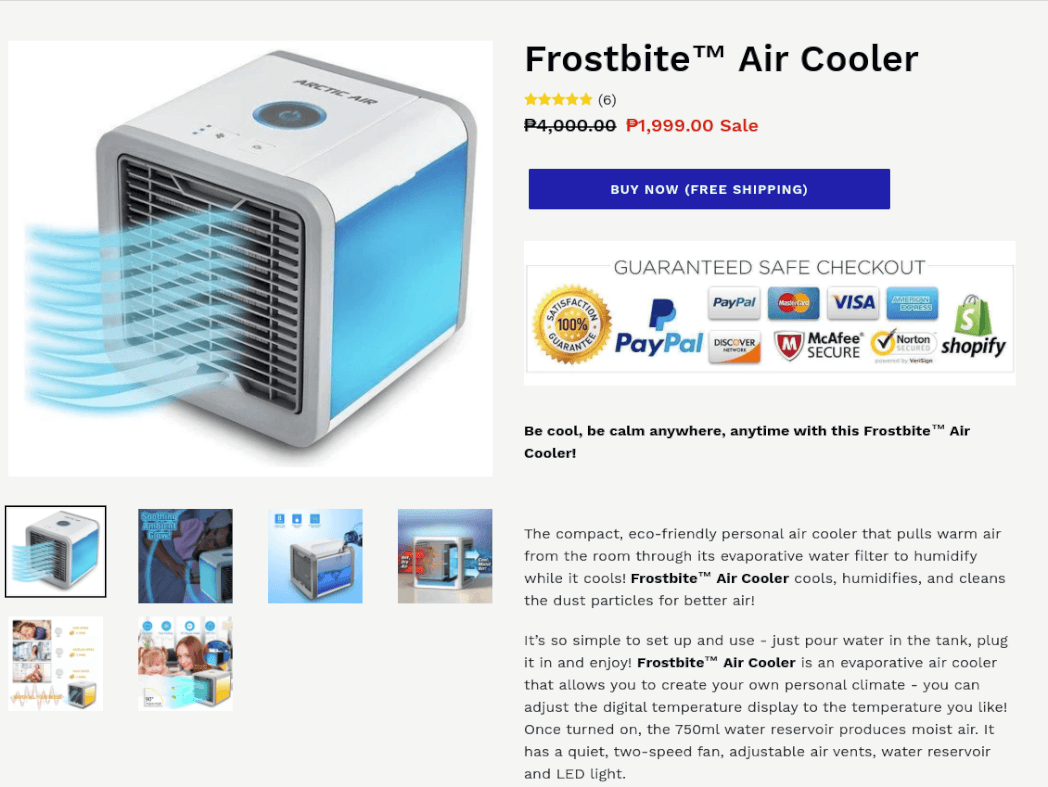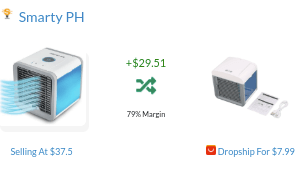 Reusable Produce Bags
This is a product with incredible potential because of the recent news that some states in the United States will require all people to stay home. People have already been buying groceries for weeks and months at a time. But vegetables won't last long! Most consumers leave their produce inside plastic bags which creates condensation and ruins the produce. Produce typically lasts anywhere from a few days to a few weeks. But with a reusable BPA free, breathable mesh bag, your produce can last up to 10 times longer. During quarantine, this is a must-have for consumers! The product is sold for $19.99 and costs $6.99, meaning this product has a 65% margin. This product also has had 3,384 orders on Aliexpress.

Conclusion – Navigating Through Uncertain Times

Stay Alert:
We are navigating through unprecedented times therefore it's important to read up on the news to stay alert about how businesses and consumers are being affected. Think about how consumers are reacting to the news and look on social media regarding what people are doing with their time. Hopping on one trend at the right time can help you become extremely profitable even in times of economic downturn.
Level Up Your Skills:
Now that many of us are quarantined inside, you have more time than ever to improve on your skills such as learning new platforms for advertising, spending more time finding trending products and developing a reputable brand for your dropshipping business. It's important to use your time wisely. Similarly to the 2008 market crash and other times of historical crises, people who have chosen to apply themselves even during these challenges have reached new heights following hardship.
Safety Over Profit:
It's important to understand that you should only scale your products once you know that your supplier can handle the volume of expected orders to come. Scaling products without the assurance of being able to fulfill them can cost your business a fortune especially when it comes to payment provider standings, customer relationships and financial stress.
I hope that this article has been helpful in guiding you through the effects of COVID-19 on your e-commerce business. Though in some ways your business may dip, there are always new opportunities out there. Sometimes they are hidden away and it's up to you to find these gold mines.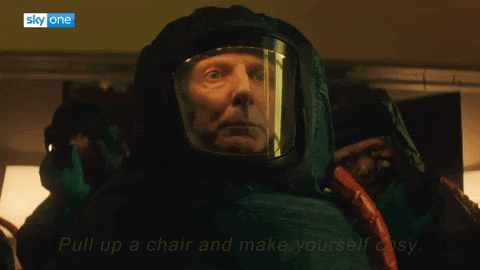 Written by Colin Ngai