Have you ever noticed that the kitchen products are one of the biggest markets when it comes to dropshipping? We all have kitchens, and everyone loves a new gadget that can save time and enhance your cooking & cleaning experience.
No matter the year, the kitchen niche has always produced incredible sales and shows no signs of slowing down. In fact, Oberlo has tracked sales from thousands of dropshippers through their platform this year and has ranked Kitchen & Dining as the second largest niche by total order volume (GMV).
---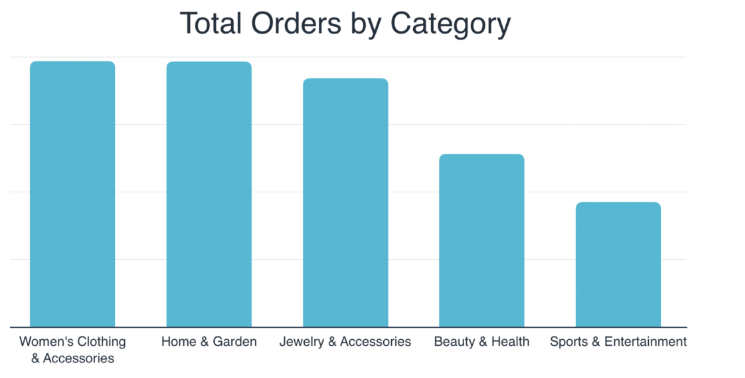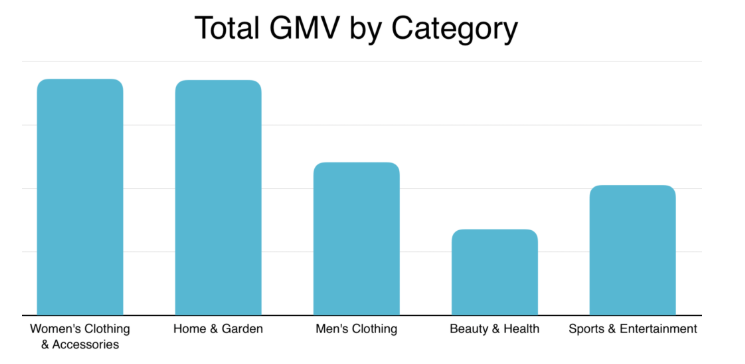 GMV stands for Gross Merchandise Volume which is another way of saying total order value.
---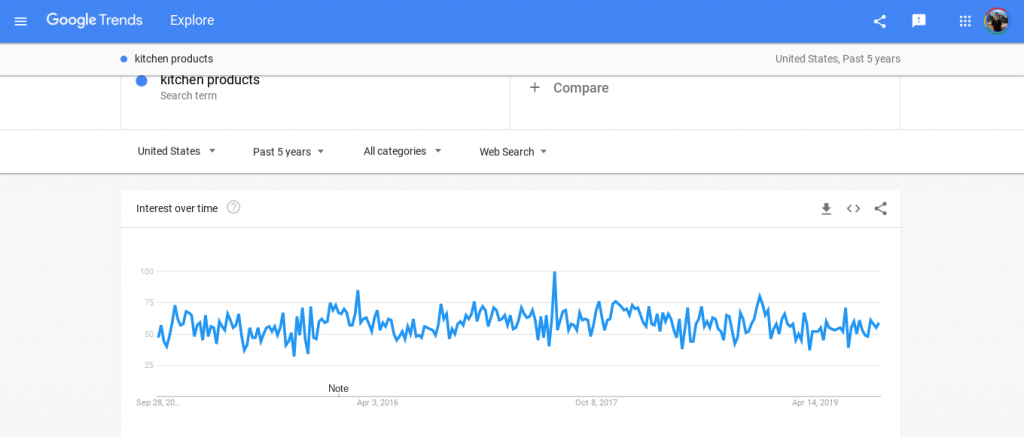 If we look at Google Trends data, we can see that kitchen products have had a steady interest over the last 5 years. There's a constant stream of new kitchen gadgets coming to market that keeps the niche alive.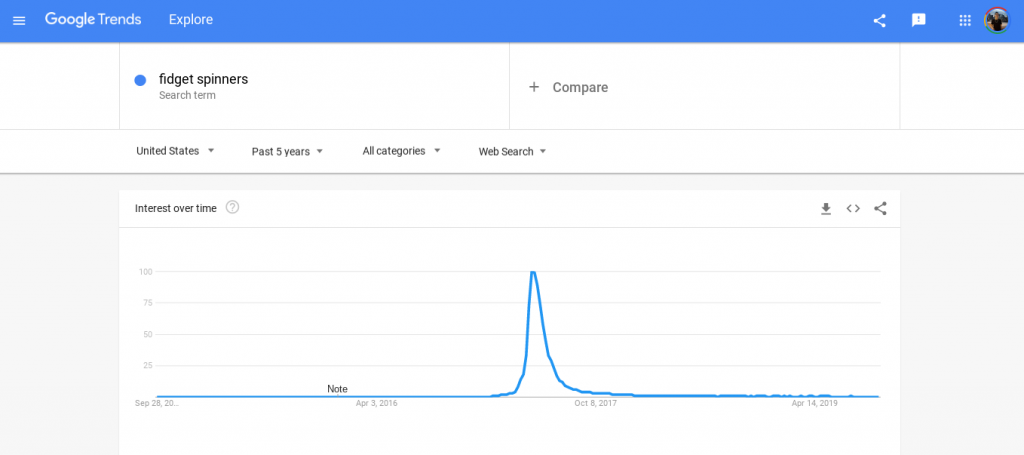 Let's compare the chart above to a less stable niche that has a fast rise and equally as fast fall, reaching peak maturity and then simmering out within the space of a few months.
---
Not all niches are as consistent as home & kitchen but earning potential can be just as high if you catch a trend early. We caught the viral fidget spinner trend a month before it peaked back in May 2017. We send thousands of similar trends to users each day.
In the following article, we've compiled a list of the top kitchen products appearing on user's trending feeds this month. What makes this list so special is that we back up every trend we show with proven trending data such as click growth, likes and video view counts.
Product List
All of these metrics are combined to give each product a product strength metric. The higher the product's strength, the better it is doing. Let's get started!
---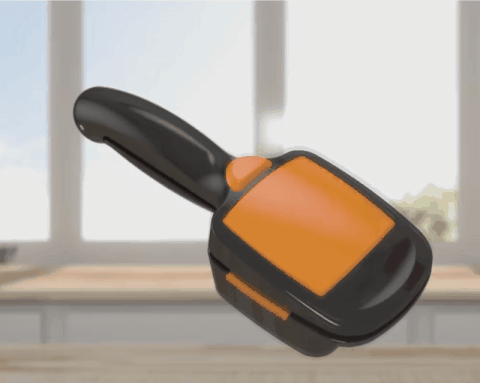 #1 The Compact Vegetable Cutter
Using Trending Products, we can see live data on every dropshipping product – the video being used, ad copy, product page, supplier info, profit margins and more. The first product on our list, The Compact Vegetable Cutter, comes in with an impressive 100k product strength.
With this data, it's clearly on the trajectory to hit 6 figures in sales. You can see according to the bit.ly tracking link that this page received over 38,392 clicks in one month alone!
Let's say this page converts at a mere 3%, that's 1152 orders! The profit margin for this product is $19.03 at a whopping 95% which is insane. What I love about this product is it comes in handy in the kitchen. This is an all in one tool that lets you cut any food with ease while holding the ingredients that you've just chopped.
A product that solves a problem is something people can see themselves buying. This is why As Seen on TV products do so well. Often times, they have taken problems and made cool gadgets that solve the problems that people face at home.

---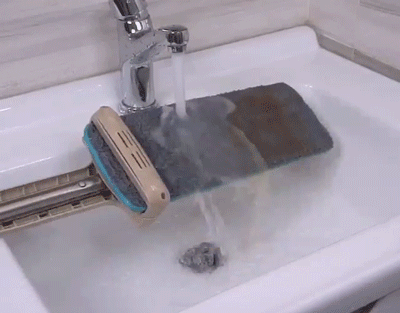 #2: Smart Mop
Next on the list is a mopet – a smart combination of mop and bucket, a perfect compact cleaning tool for your house. It's simple rectangle design allows for less mess and less water needed to clean. Furthermore, it comes with a sturdy bucket that's easy to use and fits perfectly. No more clunky old mops or buckets that leave a mess everywhere.
This product has clearly caught the attention of the market with a strength of 100k and a total of 73,709 clicks! The Facebook video ad has a total of 5,703,104 video views!
Think of potential markets you can tap into such as stay at home parents or people who love As Seen on TV Products.

---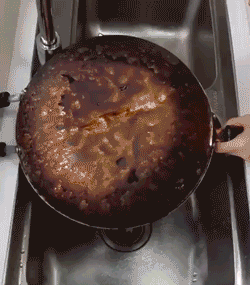 #3: All Purpose Kitchen Cleaner
This All Purpose Kitchen Cleaner is perfect for people who love to cook frequently. This cleaner removes stains simply by spraying and wiping. Though there are other products that clean kitchens, this one makes everything quick and easy. Not to mention, it's a water based eco-friendly solution as well.

For this product, the strength is at 10k and has recently cracked over 1,000 clicks in just the last 24 hours. Notice this store has seen more clicks recently and is in the early stages of trending upwards.
The profit margins are quite good roughly at 72% or $14.34 profit per unit sold. Though stay at home parents is always a great market to target for kitchen products, I also recommend targeting people who are interested in kitchenware brands. You can see the top 10 kitchenware brands out there here.
If someone invests a lot of money into high quality kitchenware products, they most definitely want to keep their silverware clean. That's why your product becomes a necessity for them!

---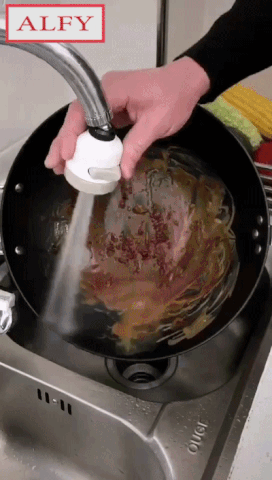 #4: Home Faucet Booster
When it comes to the kitchen, most people enjoy cooking, but hate cleaning. That's why it's a chore to clean the dishes. Simply twist it on and super-charge the water flow to clean your dishes faster. It's even got a 360 feature where you can change the angles to aim the water at. From a customers perspective, they love buying cool little gadgets that makes their life easier.

The strength for this product is 10k with a profit margin of 56% and a total of 10,540 clicks to the product page. Notice that within the last week, this store has been seeing an upward spike in over 500 or 1,000 clicks per day.
The video ad also received 5.8k likes, 1.2k comments and 2.5k shares! Seems like this ad is getting quite the attention from it's viewers.

---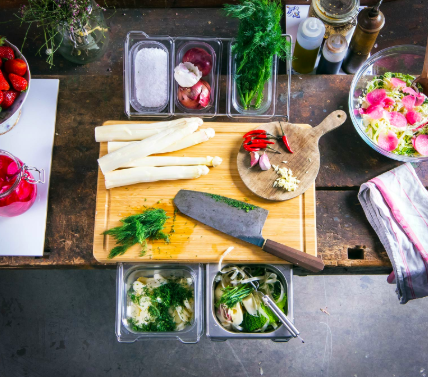 #5: Bamboo Cutting Board
This cutting board is essentially a three-in-one tool that makes cutting, chopping or mincing a breeze! On the top, you've got your ingredients you can draw from and then in the middle you've got the cutting board to chop everything up. Finally on the bottom, you've got this cool little tray to dispose any excess waste you have.

This keeps your kitchen extremely organised as most people tend to mix up their waste with their food. This product has a strength of 1.1k, with a profit margin of 82% and over 1,060 clicks. However, notice that this product has 524,352 views in total.

This product is an excellent high ticket type of product to sell as the cutting board with boxes can be sold from $100-$120 with massive margins. The average stay at home parent might not buy this, but someone who's an avid cook enthusiast who is very particular about making the best dishes would be someone who also wants their kitchen organized and in order.
---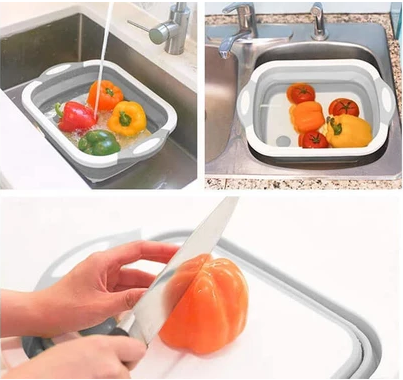 #6 Transforming Kitchen Board
This cutting board is extremely versatile and allows you to do multiple things with just one tool. You can expand the board to a rinsing container for your vegetables or you can collapse this to turn into a cutting board.

The profit margin is 66% at $22.95 per unit. With roughly 180,107 video views.
---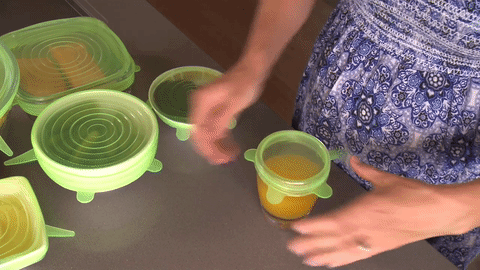 #7: Stretchy Silicone Food Lids
One of the toughest challenges in the kitchen is keeping your leftovers fresh. Plastic Wraps can be messy and don't always keep them fresh. Ziplock bags and containers can work but doesn't always come in the right sizes.
This silicone food lid helps people to keep their food fresh especially by being able to stretch to any size and cover all lids. Best of all it's reusable and eco-friendly.
As you can see the strength score is 600, the profit margin is roughly $12.98 per unit sold and the total clicks are 1,867. And the total video views are 157,101.
One market that you could target is the eco-friendly and sustainable living audience. They love using sustainable and reusable products. And more importantly, they hate to be wasteful.
---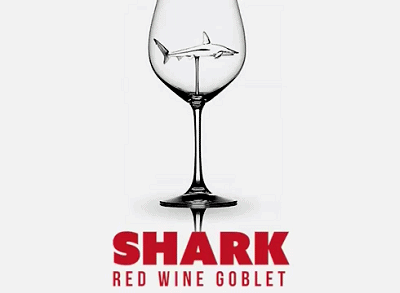 #8: Shark Wine Glass
This Shark adds a nice touch to your wine glass. There are so many different audiences you can target including couples who love to drink red wine. Or couples who love expensive red wine brands.
According to our metrics, this product gets a 100k strength and has received 20,586 clicks within only about 2 weeks averaging between 1-3k clicks per day.

---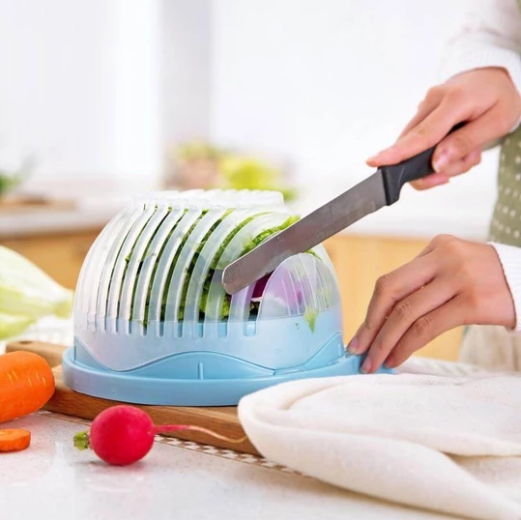 #9: Salad Cutting Bowl
This Salad Cutter Bowl is an old winner and seems to be trending again. A great audience to target is simply people who meal prep and love to eat healthy.
The strength for this product is 10k with 82% margin ($19.12 profit per unit sold), with a total of 11,645 clicks. Recently it received around 1,500 clicks in a day.

---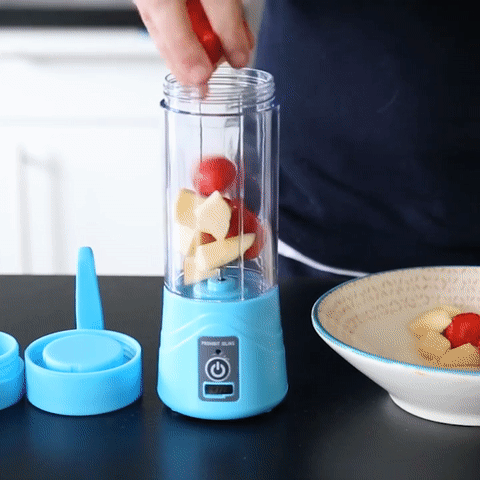 #10: Portable Blender
Juicers and blenders have always been stable products to sell – just look at the number of Amazon sellers or blogs who do affiliate marketing for these types of products.

But rarely if ever do you use see Portable blenders. This is where you come in. I'd say the ideal market is people who love to juice, experiment with diet plans or looking to lose weight.

The strength of this product is 10k, with a margin of 60% ($21.22 profit per unit). The total clicks are 18,035 but recently it has reached 4,000 clicks in the last 24 hours. 
Final Thoughts
---
There you have it, these are our top picks for home & kitchen! This is just a small selection from the thousands of product trends we detected this month.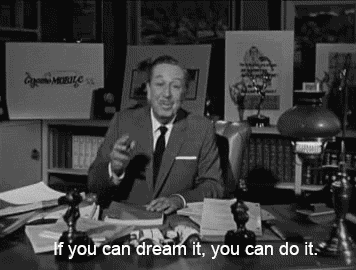 Knowing the live and most recent data is crucial when analyzing products to test. That's why Trending Products is so incredibly helpful, especially because we get to see various metrics such as the recent number of clicks and video views.
Once you have a list of customers make sure you have a Shopify app that keeps them coming back to increase your customer lifetime value. Growave is one of the most used apps, that comes with a loyalty and rewards program and encourages customers to share on social media – helping build trust with social proof.
You can join Trending Products as a beta tester and find your own unique trends using this private invite link. Goodluck 👍🔥
Written by Colin Ngai