With the world in quarantine, the economy of many countries has plummeted. In the United States, the unemployment rate is at an all-time high of 14.7 percent, as many physical businesses have either shut down their operations or are in limited capacities.
Despite the halt on many businesses, consumers still maintain their buying habits. E-commerce is one of the few industries that is thriving under these conditions. That's why Walmart and Amazon have a combined 250,000 job openings to fulfill all of their orders. In this article, we'll cover why it's still the best time to be in e-commerce.
Ecommerce Growth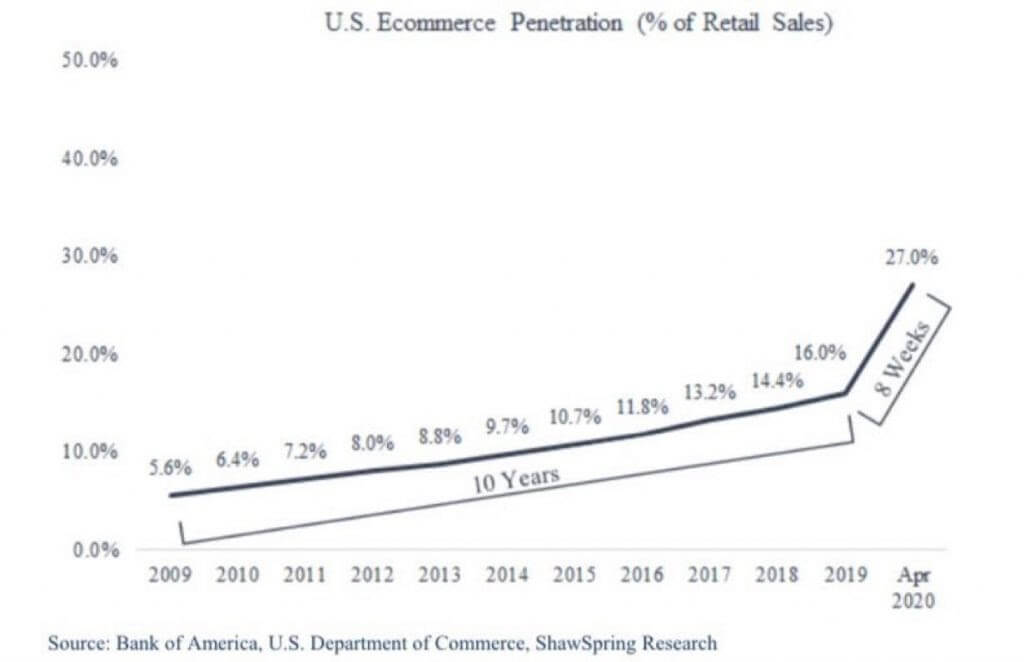 The U.S Department of Commerce has reported that e-commerce sales account for 27% of total commerce, which is up 11% since last year. After the initial burst of stockpiling at grocery stores, consumers have changed their spending habits to entertainment products. Without all of the fun activities, many consumers are looking to entertain themselves at home. As retail stores are closed, and some have even shut down, consumers have shifted from physical shopping to online shopping. Rakuten Intelligence reports that the United States if up over 30% of e-commerce sales from March to Mid-April compared to the same time last year. The demand for shopping online is higher than it's ever been before, and this proves e-commerce is an excellent way to take a piece of that pie.
Consumer Behavior
Since meeting up with friends and going to social gatherings is no longer an option, people turn to social networking and streaming platforms. As you can see, Facebook, Netflix, and YouTube have dramatically increased their website traffic. As an e-commerce owner, it's much more likely your social media pages will get more impressions. Also, people are more engaged in their phones than ever. This means engagements with your ads will be higher.
Think about it. If people are no longer at work, school, and commuting, there's no constant distraction. This leads to increased watch time on video ads and a higher click-thru rate.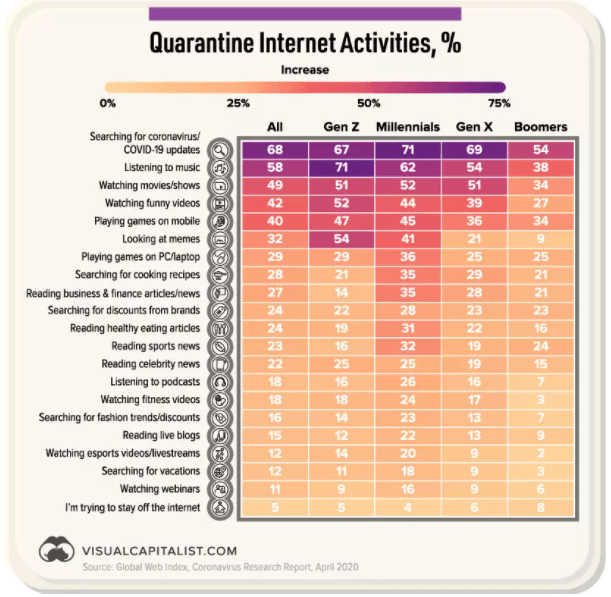 From the image above, you can see Visual Capitalist does a great job of breaking down media consumption during quarantine. This will provide insight as to what your consumers are searching for. For example, you can perform an interest targeting on Facebook to target the most prominent cooking pages or healthy eating blogs for your kitchen product. Or you can take advantage of advertising through keyword targeting. For example, you can target your workout equipment product to people who searched for keyword phrases such as "home workouts" on Google or YouTube.
Cheaper Ad Prices
According to The Wall Street Journal, Facebook has dropped it's ad prices by about 15% to 20% in March of 2020. And on Instagram, the cost of impressions has fallen 22% in March. Ad costs are lower than ever before, and the cost to acquire customers is lower than it's been in a long time. For those who can build a brand, you can acquire new customers and gain additional email subscribers at a lower cost. Then convert these leads into repeat buyers and build brand loyalty.

A story published by Business Insider stated that sponsored posts from Influencers on Instagram fell from 35% in Mid-February to 4% in April. And marketers expect a 15 to 25% decrease in the average price for sponsored posts, since there is less demand for influencer brand content. What does this mean for you? You can swoop in to buy sponsored influencer marketing posts for a steep discount to promote your products. Combine this with the increased demand in certain product categories, and now you've got the perfect recipe to see a spike in sales.
Creating a Brand
It's no surprise that when businesses are forced to shut down, the marketing budget is one of the first things to be slashed. Some of the biggest brands have hit the brakes on their marketing. Amazon has decreased its google shopping ads. Other big names such as Kohls, Coca-Cola, and Zillow Group have limited their advertising as well.

In a Facebook report, the platform said they are taking a hit due to a "weakening" in their ads businesses, especially in countries that have suffered significantly from COVID-19.
Certain Product Categories Have a Spike in Demand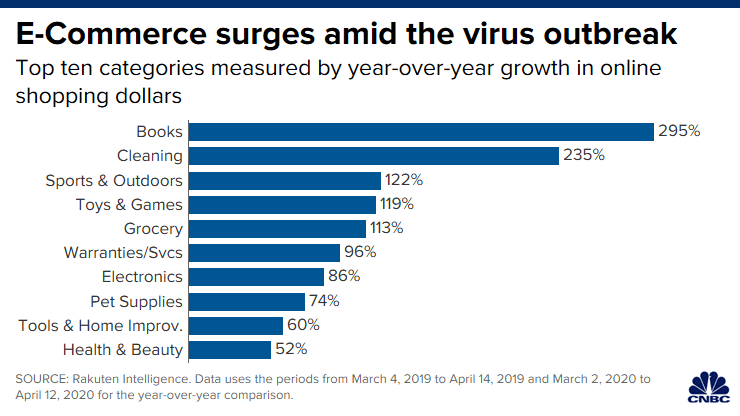 In this graph, notice that cleaning, sports and outdoors as well as toys and games have seen drastic increases in sales. If you're going to thrive during these times in e-commerce, it's best to identify everyday problems that people are facing during quarantine and actively solve those problems. Also, look for activities that hobbyists tend to love, such as people who love cooking, baking, gardening, etc. People who are passionate about these hobbies love spending money on their hobby to make life easier and more enjoyable.

Below are a few products ideas that are perfect solutions to common quarantine problems.

| | |
| --- | --- |
| Problems During Quarantine | Potential Solutions |
| Gyms are closed | Resistance bands |
| Nail Salons aren't open | Poly nail DIY kit |
| Hair Salons aren't open | Hair and beard trimmer |
| Must keep pet entertained, while I work | Suction cup dog toy |
| Bad posture working at home | Posture corrector |
| Bored and looking to redecorate their home | LED light strip |
| Pet groomers closed | Pet grooming kit |
| More time spend in the kitchen | Vegetable peeler |

New Income Streams
As shown by the previous graphic, books have increased in sales by over 295%. It could be people who are just catching up on their list of fiction novels. But I'm predicting people are looking to learn about work from home opportunities and how to get another source of income. Numerous studies prove that people hate their current job or work environment. A poll conducted by Gallup showed that only 15% of the 1 billion employees worldwide are engaged at work.

Quarantine is a great time to take advantage of your free time and learn a new skill. There is so much free content available on the internet that you can get started within days. On Google Trends, a surge in the number of searches for dropshipping had increased correlating with the same time period as when quarantine had begun around Mid-March.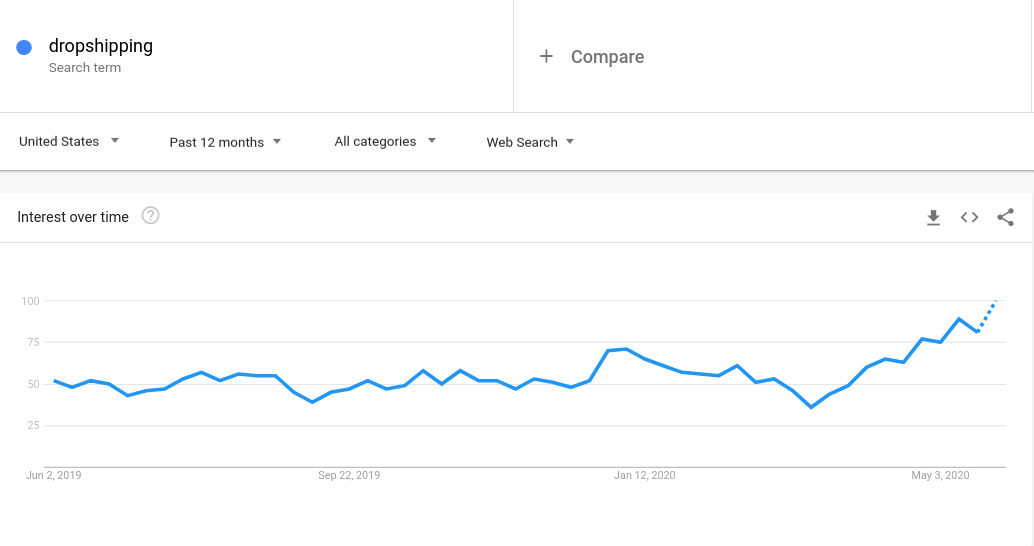 Start a Low-Risk Business
Compared to brick and mortar businesses, investing in stocks or real estate, dropshipping is incredibly low risk. There are low startup costs. Your initial expenses will consist of a Shopify subscription and marketing expenses. Unlike Amazon FBA, or traditional e-commerce businesses, you won't have to buy up units of inventory or handle the shipment of the orders. This gives you the flexibility to test products quickly until you find a winning product. You also don't have to learn any complicated skills, such as designing a website. The Shopify platform is a plug and play software that allows you to create a fully functional store without any coding or tech skills. The primary skills required for dropshipping is the ability to identify and find profitable products and have excellent advertising skills.
Fulfilling Lifestyle 
Dropshipping is truly a laptop business where you can take travel anywhere in the world, while earning a living. Here are a few great perks as a dropshipper.

Ability to Exponentially Increase Income – With dropshipping, you can scale your income quickly. You need good marketing skills combined with a great product.
Tax Write-Offs – Dropshippers can receive tax benefits by writing off the home office they pay rent for, tech expenses, and who knows, maybe you'll even be able to throw in gas expenses.
Credit Card Rewards – Many of the top dropshippers put their ad spend and all other expenses on their business credit cards. Credit card companies offer lucrative sign-up bonuses and other rewards such as travel points and cashback. Dropshippers can begin getting free hotels, first-class flights, hotels, dining rewards, and other amazing benefits.
Time Freedom – Although many entrepreneurs do work over the 40-hour workweek, dropshipping does allow you to set your own schedule. From my experience and observation, dropshipping doesn't require a rigorous 40-hour schedule. You can hire Virtual assistants and implement systems to remove all of the most time-consuming tasks, such as customer service and order fulfillment.
Recession-Proof
In 2008, most Americans weren't prepared for the recession. Some of the biggest companies fell apart. In 2020, businesses were not prepared for any sort of temporary shutdown proven by the increasing number of layoffs.
The good news is e-commerce is on pace to hit a record of $4.9 trillion in sales by 2021, a 265% growth rate from $1.3 trillion in 2014. Also, in 2021, e-commerce will account for 17.5% of total global retail sales.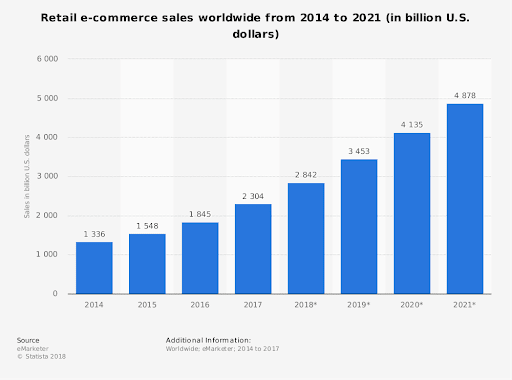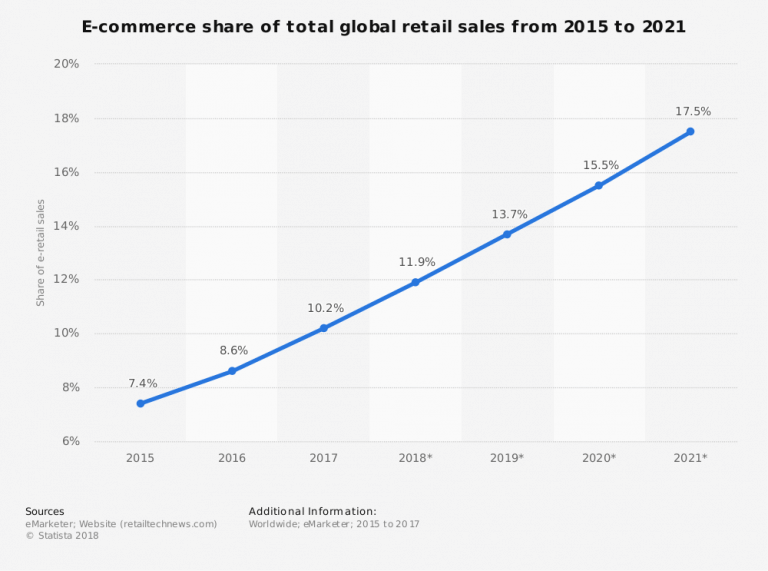 As you can see, e-commerce is a booming industry that isn't slowing down anytime soon. The sooner you get involved, the less competitive it'll be. The world is moving towards instant delivery, whether it's food and grocery deliveries, rideshare apps, and shopping on social networks. In fact, Amazon has been credited for wiping out big staple brands such as Borders book store, Toys "R" Us, Sears, J Crew, and many other stores who've filed for bankruptcy or closed down completely.
Products That Work
Finding Hot Products Is Easier Than Ever. People are always worried about the saturation of products in dropshipping. But new innovations have developed over the last few years to make finding winning products easier than ever. Product research software and spy tools have allowed e-commerce owners to find under-the-radar products to capitalize on quickly. For example, at TrendingProducts, has scanned over 750,000 dropshipping ads and detects over 12,000 products per day to deliver hot-selling products to you. 
Backed By Real-Time Data
TrendingProducts is backed by real-time data that shows you live metrics such as video views, or likes detected in the last 24 hours. With most product research software, you're only given two new products per day. For example, you can see with the screenshot that I have a total of 300 credits. Even if I decided to see the hottest products averaging about 50 credits to open each, I still have access to 6 new hot products per day.

Find Niche Products
Having all the data is great, but it's even more useful if you're able to filter out the data to find exactly what you're looking for. With this tool, you can filter by: categories, profit, margin, price, store location, store plugins, trending history, store strength, recently added, and ad or post availability. Let's say I am creating a new Home improvement brand, and I'm looking for the most profitable products that have been recently added in the home and garden brand. I can filter by margins, recently added this month, select the niche, and then filter by store strength to find the best stores selling these products. When it comes to seeing success, testing is a crucial component. However, you need to test products that only have been vetted out and carefully examined rather than just throwing things on the wall hoping for it to stick. 
Final Thoughts
Although being in quarantine can feel like you're trapped in a cage, remember there is a silver lining. Being at home with excess free time is a golden opportunity for you to begin learning about e-commerce and how to take advantage of this lucrative industry. I could write a whole book about why e-commerce is the greatest thing since sliced bread. With that being said, there's no reason why you can't succeed with the amount of information available online.